Meet the Miler: Emily Lipari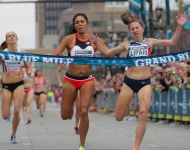 May 08, 2018
2018 USA Road Mile champion and reigning BBTM GP Tour champion returns to the Twin Cities to defend her title at the Medtronic TC 1 Mile on Thursday evening.

By David Monico, Bring Back the Mile

The Medtronic TC 1 Mile defending champion, Emily Lipari, is returning to headline another strong women's field in the Twin Cities on Thursday evening, May 10. The 13th edition will welcome one of the largest road Mile fields in the country on a U-shaped course through downtown Minneapolis near beautiful Gold Medal Park and alongside the Mississippi River.
Top Milers in the world will vie for a $25,000 Open prize purse at the second stop of the Bring Back the Mile Grand Prix Tour 2018. The Medtronic TC 1 Mile is also the fifth race on the 2018 MDRA Grand Prix.
Lipari is coming off of her first USA title at the Grand Blue Mile and we sat down with the defending BBTM GP Tour winner to discuss her current training, transition to the west coast as well as her experience at Villanova.
BBTM: Hi Emily, thank you for making a little bit of time for us.
Emily: Absolutely, this is my life so I got a lot of time.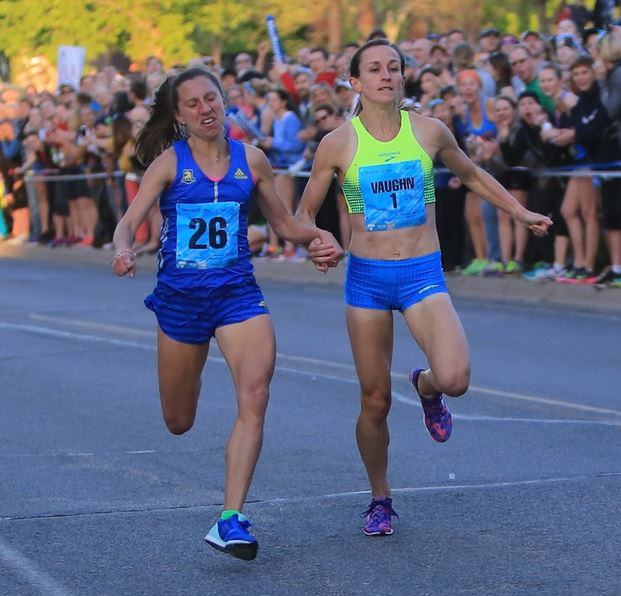 How are you feeling heading into Thursday's race in downtown Minneapolis?
I'm very excited. Obviously there are a lot of big changes that happened this year and I definitely responded really well to a lot of it. I've had my best training I've ever had these last two, three months. I'm really excited coming off the Grand Blue Mile to race the TC 1 Mile.
The TC 1 Mile team took such great care of us last year, making it such a fun experience; I'm really excited to be heading back. I'm feeling good going into the weekend.
You had a great run in Des Moines at the Grand Blue. You are reminding us a little bit of who has been dubbed the Queen of the Road Mile, Heather Kampf. Is there a particular reason you compete so well on the roads?
Road Miles are nice to switch it up. We run on the track all the time and that's really fun, but when you switch over to the roads you stop thinking about splits and the times you're running. It brings you back to competing again. You step on the line, you don't know what the weather conditions are going to feel like; if it's windy it could be windy for a half mile right off the bat. I love the idea of being out there competing and not really worrying about the clock and just being very in tune with the competition.
It really helps me practice covering moves. When you're coming off a turn sometimes you find yourself 20 meters back and you're like, I don't know how I got there. You have to be very aware of your surroundings and I think the road Miles are great for really teaching a runner that.
I have a lot of fun out there and it's definitely helping me afford my wedding that's coming up.
Congratulations! When is the big day?
Thank you. It's gonna be next October and we're getting married on Long Island in my hometown. We're really excited about it.
When you were growing up and getting into racing, did you have any running heroes that inspired you?
I didn't really. I was a big soccer player and a lot of my focus went into that. When I was in high school a lot of times it was like, okay, I gotta get in shape for soccer. I was in my soccer bubble for so long and was pretty naive, but towards the end of high school, as we paid more attention to the Olympics, I really looked up to Morgan Uceny. Then I actually ended up being her teammate on the BAA and I was really starstruck when I first came on that team.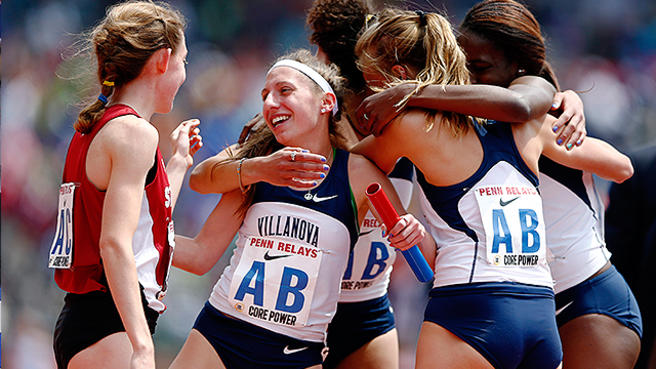 What was the first year that you just focused on cross country and track & field?
I played soccer all throughout high school playing for a travel team. When I graduated I called up my Villanova coach [Gina Procaccio] and asked her if I can play in my final nationals with my soccer team which was like three weeks before I was going to college. I actually played that summer leading into my first season at Villanova. She was super understanding and said 'I'm cool with you playing in this tournament, but come next year at Villanova, I'll want the soccer to stop'. I thought that was fair (laughs).
That was great and I knew it was going to be my last soccer hurrah before becoming a full blown runner in college. I'll add though that I was looking at schools for a while that would allow me to do both; I thought that that was a route that I wanted to go. I ultimately opted not do that because I really wanted to be able to excel at one and ended up choosing running.
Were you aware of the rich history at Villanova?
I definitely did not. Like I said I was pretty naive, I didn't even know that Villanova had won the NCAA Cross Country championships that year. But, when I went on my recruiting visit I was sitting down in Gina's office and saw her wall of NCAA champions and Olympians. Then you take a walk down the Penn Relays row and they have all the wheels up. You want be a part of that.
I thought this is a program that can make me great and to be a national champion and being an Olympian. These are also all things you want to aspire to.
What lessons did you learn there that you still apply today?
It's hard to compare because college and a professional runner's life is so different. When you're in college you're so focused on being part of a team and doing everything that you can for a team. Then it becomes much more individualized when you leave college. I was very lucky to be on the BAA team with a bunch of girls that I really loved training with and just loved being a part of that over there.
Villanova definitely teaches you how to uplift your teammates and to be a unit. Gina was very good at teaching you to go out there and compete and not to worry about other people. She was great at keeping us in the moment and that transfers over. I thank her a lot for that and post-collegiately by helping me get into a program with a coach that I've continued to excel with.
How is the transition to San Diego going?
It's very different. I've always been an east coast girl and I love the east coast. Down the line I'll probably go back. As the changes were happening with the BAA and the window of opportunity in this sport so small, I wanted to continue to be able to train with Terrence Mahon who I had been clicking really well with. He puts a lot of time into his athletes. I wanted to take that risk and be able to train with him.
However, I'm actually not living in San Diego. My college boyfriend who is now my fiancée is in the military stationed up in Bangor, Washington, which is just outside of Seattle. I am actually living part time in Seattle and then I come down to San Diego here and there or I'll go up on our altitude trips. Chris O'Hare is doing something similar.
It made the most sense because my fiancée and I did about three and a half years of long distance, which was getting really difficult. It's been going really well. I've been in San Diego for the past month or so and am still able to see the Terrence crew a good portion of the year.
What's your first recollection of running a Mile?
I started running for my high school when I was in 8th grade. I remember being on the start line shaking because I was so nervous. I'm also very young for my grade, so I was only, geez, maybe 12-years-old when I was stepping on the line. When I actually got going it was so much fun and I think that rush of having so many people around you, then getting into the sprint to the finish and not knowing who's going to win as well as the lean. It's that rush of excitement that you get and the adrenaline that comes from the Mile. I also appreciate that everybody can train so uniquely different for the Mile, but yet we can finish so closely. It's a cool event to be a part of and I'm just happy I've been able to improve since high school.
With all the different training methods out there, the Mile distance can indeed be an equalizer.
It's definitely cool. You get a lot of people that are super speedy and do more like Mile, 800 meter work. And then you get people who are more Miler and 5K. It's cool that you can be more anaerobic or aerobic and get the same results.The event shows how unique the human body is and how people can respond to different things. You just have to find the program that works for you.
What are some of your goals moving forward in 2018?
Even though it is a non-championship year, I would definitely like to go to USAs and finish a lot higher than I did this past year to make a big mark for myself. Then we'll see what happens after that. I am currently unsponsored, so Europe will be up in the air as to whether or not I will do it. It's a hefty price tag on that trip.
After the TC 1 Mile I'm going to do race in Jamaica, which will be super fun. My 1500m PR right now is 4:07 and I would definitely like to lower that a good bit and try to get down to that 4:04, 4:03 range. That's one of the big goals of the year in addition to getting in a couple of fast 800s. Everything is going according to plan and I'm really excited for the rest of the year.
Thank you for your time, Emily, and good luck!
Thank you.