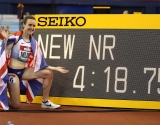 May 02, 2019
"I was no prodigial youngster... running was a hobby and it went from there."
By Tom Morgan, The Telegraph sports
As a schoolgirl, Dina Asher-Smith was so close to the action during British athletics' 2012 golden hour she could reach out and touch her heroes. Laura Muir, in contrast, spent...
Read More
comments