Sifan Hassan wins fast Mile at Müller Anniversary Games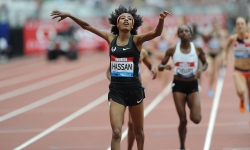 July 22, 2018
Best ever women's Mile produces #3, 6-7 all-time, 4 national records, best time for place 2-12, record tying 5 sub-4:20 same race and 10 personal records!
By Steve Smythe, Athletics Weekly
The final race on the second day of the Müller Anniversary Games on Sunday in London was the Millicent Fawcett Women's Mile which was built around Laura Muir's British record attempt.
In a race which saw her European rival Sifan Hassan go third on the world all-time list as well as highly impressive Dutch and Diamond League record of 4:14.71, an out of sorts Muir finished fifth in 4:19.28 as the top three all went under 4:17 and the top nine under 4:21.
American Olympian Brenda Martinez set the race up well with a 63.30 first 400 meters and 2:06.85 at 800m.
At this stage Muir was struggling to hold that pace (2:08.0) but was effectively operating as a pacemaker for her major rivals – Hassan, world 5000m champion and defending champion Hellen Obiri, who beat her in this race last year, and world 1500m champion Jenny Simpson.
With 600m to go, Obiri pushed past her as and as they passed 1200m with Hassan ahead on 3:11.82, Muir was struggling to go with the top three with Gudaf Tsegay and Obiri five meters clear of Muir (3:12.8) and Simpson (3:13.3).
The race was close at 1300m but a 15.0 100m down the backstraight gave Hassan (3:42.8) a clear lead with Muir (3:44.4) about to be passed by Simpson.
Through 1500m, Hassan (3:57.5) was now 10 meters clear and she held the gap with a stellar 4:14.71, the fastest women's Mile recorded in July.
"It's unbelievable how fast I ran today," said a delighted Hassan. "I have the endurance and speed but don't normally have the last kick and today I did. Luckily I'm able to say I have the meeting record and Diamond League record today but it will be incredible to see how fast I can actually run in the future. I wanted to double up in the 1500m and 5000m at the European Championships but I think that's out of the question given the timetable."
Tsegay (4:16.14, #6 all-time) just edged Obiri (4:16.15, #7 all-time), though the latter's consolation was a Kenyan record 4:16.15.
Simpson set a track PR 4:17.30, U.S. #2 all-time, in fourth followed by Muir.
Continue reading at: athleticsweekly.com