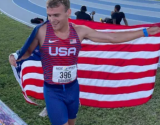 August 22, 2022
"This win was finally a big-time victory besides some invitationals... I want to prove to naysayers that I can win at big meets, not just small."
By Nancy Haggerty, Rockland / Westchester Journal News
He has run a bit faster. But better?
No. Never.
Former Carmel High School track standout...
Read More
comments