Philibert-Thiboutot smashes Falmouth Elite Mile record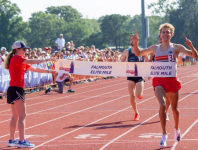 August 14, 2021
Markovc edges Schlachtenhaufen in women's race; $28,500 awarded; Clare, Myles Liss-Riordan Tommy Cochary High School Mile champions
From Falmouth Road Race
FALMOUTH, Mass. – In the 25th running of the Falmouth Elite Mile on Saturday afternoon, six men went sub-4 minutes at the newly resurfaced James Kalperis Track under hot, humid & sunny conditions. Canadian Charles Philibert-Thiboutot and two-time race champion Craig Engels followed closely behind pacemaker Drew Piazza in the opening lap as Johnny Gregorek, Brett Meyer, Mason Ferlic, Craig Nowak, Bryce Richards, Daniel Herrera and Jeremy Hernandez quickly fell in step.
With a $25,000 prize purse plus sub-3:56 and event record bonus money on the line, Philibert-Thiboutot, 30, rattled off laps of 57, 58, 59 and 57 to finish strongly in a personal and event record of 3:52.97, followed closely by Engels in 3:53.97 and Gregorek in 3:54.01.
The 2016 Olympian took home $7500: $5000 for the win, $1500 for an event record and a $1000 sub-3:56 winner bonus. Engels and Gregorek earned $3500 and $2500, respectively, including sub-3:56 $500 bonus money.
The fast trio were also under the old event and outdoor state Mile record of 3:54.89 by Jordan McNamara at the 2011 race.
The women's race was strategic as the pack of seven held tightly together until the final lap. Taryn Rawlings and British Tokyo Olympian Amy-Eloise Markovc led through the half mile with Katie Wasserman, Alli Cash, Helen Schlachtenhaufen, Katrina Coogan and Anna Shields on their heels.
Schlachtenhaufen, 2018 runner-up, took the lead with 600 meters to quicken the pace and string out the pack. In the closing meters, Markovc, 26, pulled even with Schlachtenhaufen and edged her at the line 4:41.03 to 4:41.05. Rawlings took third in 4:41.69.
After a pre-race pep talk from Tokyo 2020 Olympic Marathon bronze medalist Molly Seidel, the 10th running of the Tommy Cochary High School Mile showcased some of the best Milers in Massachusetts.
Rory Clare of Wellesley won the girls race in 5:08.29 and Myles Liss-Riordan of Brookline won the boys race in 4:23.49.
"I was so happy to be here and had a great race," Myles Liss-Riordan said, "This is the biggest crowd I've run in front of in a while."
Clare led most of the race on the girls side, taking the field out in 2:30 through 800m. The strong early pace was too much for the rest of the field and Clare was able to hold off Mia Costa of Walpole for the victory. Costa came on strong in the last lap but finished second in a time of 5:09.87. Ali Gilooly of Stow secured third place in 5:11.52.
The boys race was won by similar frontrunning with Brookline's Myles Liss-Riordan taking the group out in 2:12 through 800m. Liss-Riordan was able to gap Northbridge's freshman phenom, Marcus Reilly who finished a close second in 4:24.53. Caleb Straayer of Acton outkicked Falmouth's own Henry Gartner for the last spot on the podium. Straayer placed third in 4:29.39.
The high school Mile, which began in 2010 and is held as part of the Falmouth Track Festival the evening before the ASICS Falmouth Road Race, was renamed 10 years ago in honor of Tommy Cochary, a young Falmouth runner who was killed in a drunk-driving accident in 1990. The road race is a huge part of the family's life, and athletes in the Mile are chosen to compete not only because they are among the best high school Milers in Massachusetts, but also because they embody Tommy's spirit of an active life and fun-loving attitude and because they have shown evidence of making smart choices in their lives.
25th Falmouth Elite Mile
BBTM Featured Event
Falmouth, MA, Saturday, August 14, 2021
MEN
1) Charles Philibert-Thiboutot (CAN), 3:52.97*, $7500
2) Craig Engels (OR), 3:53.97, $3500 (sub-3:56 $500 bonus)
3) Johnny Gregorek (NY), 3:54.01, $2500 (sub-3:56 $500 bonus)
4) Brett Meyer (KS), 3:56.18, $1500
5) Mason Ferlic (MI), 3:58.13, $1000
6) Craig Nowak (OR), 3:59.90
7) Bryce Richards (AZ), 4:01.91
8) Daniel Herrera (MA), 4:04.76
9) Jeremy Hernandez (NJ), 4:06.92
* event and outdoor state Mile record (previous record, 3:54.89, Jordan McNamara, 2011 Falmouth Elite Mile); includes event record bonus ($1500) and sub-3:56 winner bonus ($1000)
WOMEN
1) Amy-Eloise Markovc (GBR), 4:41.03, $5000
2) Helen Schlachtenhaufen (MA), 4:41.05, $3000
3) Taryn Rawlings (AZ), 4:41.69, $2000
4) Katie Wasserman (NJ), 4:43.78, $1500
5) Alli Cash (WA), 4:43.82, $1000
6) Anna Shields (CT), 4:46.48
Tommy Cochary High School Mile results HERE.