The Best Mile Moments of 2021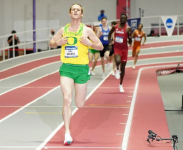 December 30, 2021
Nick Willis' record 19th consecutive year sub-4, Hobbs Kessler – 12th U.S. high schooler sub-4 – sets prep indoor Mile record, two more father-son sub-4 combo club members and NCAA Indoor champion Cole Hocker leads youth charge highlight another pandemic year
By Ryan Lamppa, Bring Back the Mile
In 2021, the Mile regained some of its mojo, and like 2020, despite the continued widespread impacts of the COVID-19 pandemic on all aspects of society, there were a number of Mile records and noteworthy performances to celebrate and recognize as the following annual Best Mile Moments by date attest.
A big THANK YOU to everybody who helped put on or support a Mile event during another challenging year worldwide.
FAST FACTS 2021
► With many more on-site races vs. 2020, prize money made a nice comeback too, nearly quadrupling, increasing to $382,210 compared to $104,350 in 2020.
► This year, a record 36 U.S. men clocked their first sub-4 minute Mile on the track (previous record was 29 in 2018), and for the 16th consecutive year, the first sub-4 U.S. annual number again reached double digits with an average of 24 first-timers and 40% of the 599 total over the past decade since BBTM's 2012 launch compared to only 7 per year from 1957-2011.
► In addition, annual records of 25 U.S. collegians and 17 U.S. men outdoors who qualified for the sub-4 club.
► In 2021, nine U.S. women recorded their first sub-4:30 track Mile (second most ever to the record 10 in 2016), and since 2012, first-time U.S. women to this select club have averaged nearly 6 per year compared to only 1 per year from 1975-2011, or in other words, 60% of the overall total (56 women out of 93) have been run since 2012 (The BBTM Effect).
► For the year, Waleed Suliman (USA) recorded the most track sub-4s with 5 and Josette Norris (USA), Marta Perez (ESP) & Winnie Nanyondo (UGA) had the most sub-4:30s with 2 each.
Nick Willis' record sub-4 Mile for 19th straight year – January 19
Evergreen and two-time Olympic medalist Nick Willis of New Zealand, 37, recorded his 19th consecutive year with a sub-4 minute Mile, clocking 3:58.63 at the Orange Winter Classic #1 meet in Clermont, Florida to break an annual tie with fellow Kiwi and legend John Walker.
Cruz Culpepper joins father Alan in sub-4 club – January 30
After a near miss in 2020, Cruz Culpepper joined the exclusive sub-4 club with his father and two-time Olympian Alan Culpepper, clocking 3:59.53 at the Washington Preview indoor meet in Seattle, WA. The duo are now the 13th father / son sub-4 minute Mile combination and the 9th fastest father-son PR combo.
NOTE: There are three younger Culpepper boys so we could see a sub-4 father with multiple sub-4 sons down the road.
Virginia Tech quartet go sub-4 – February 6
At the Doc Hale Virginia Tech Elite indoor meet, a Tech quartet recorded sub-4 minute Mile times in the same race: Bashir Mosavel-Lo (3:59.00), Ben Nibbelink (3:59.04), Ben Fleming (3:59.47) and Antonio Lopez-Segura (3:59.60) to tie the collegiate record for the most teammates sub-4 in the same race with a Georgetown quartet from February 2015, also indoors.
Hobbs Kessler stunningly sets HS indoor Mile record – February 7
In Fayetteville, Arkansas, at the American Track League meet, Michigan high schooler Hobbs Kessler, running in the Open Mile, broke the HS indoor record, clocking 3:57.66 to better Drew Hunter's mark of 3:57.81 from 2016. The Skyline High senior, 17, became the 12th U.S. high school prep to go sub-4 and the 7th since the launch of Bring Back the Mile in January 2012 (The BBTM Effect).
The young talent trains with veteran & mentor Nick Willis who finished second in the race, and both are coached by legend Ron Warhurst in Ann Arbor, Michigan.
Oregon Ducks Teare & Hocker's high flying Mile – February 12
Again in Faye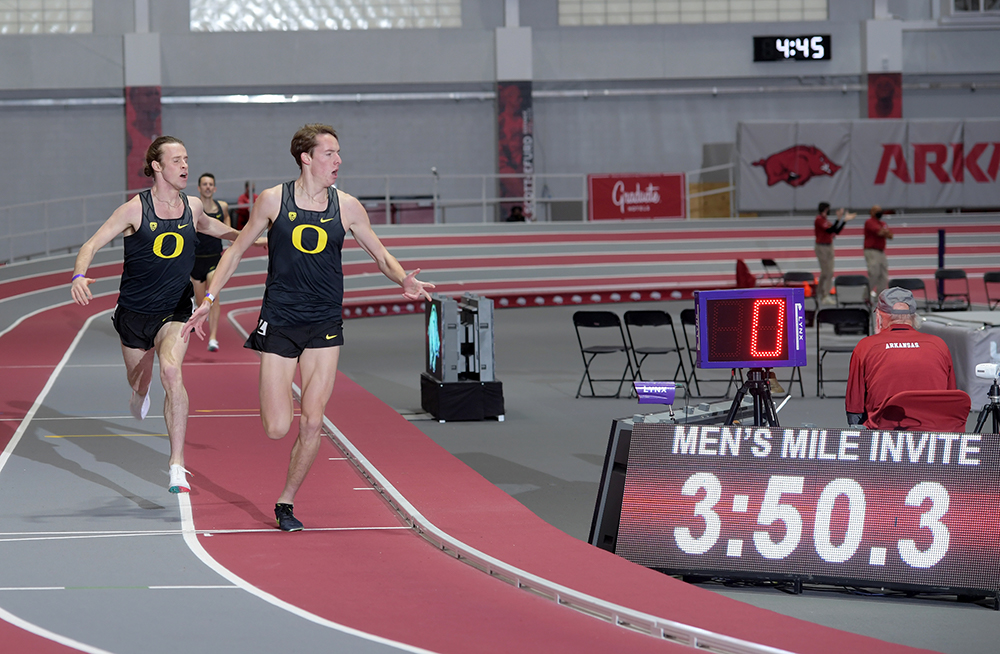 tteville, Arkansas, Oregon Duck teammates Cooper Teare and Cole Hocker produced historic Mile times at the Tyson Invitational, clocking 3:50.39 and 3:50.55, respectively. Teare shattered the NCAA indoor Mile record (previous record was 3:52.01 by Edward Cheserek (Oregon / KEN) in 2017) while Hocker ran the #2 all-time NCAA indoor Mile time. In addition, their teammate Charlie Hunter of Australia was third in 3:53.49.
Hocker NCAA Indoor Mile champion, setting meet record – March 13
The University of Oregon's Cole Hocker handily won the Mile at the NCAA Indoor Championships in Fayetteville, setting a meet record of 3:53.71 (previous record, 3:54.74, Lawi Lalang (Arizona), 2013). Hocker, one hour later, also rocketed to the 3000m title, outkicking teammate Cooper Teare, 7:46.15 to 7:46.23, and led the Ducks to the men's team title.
Sage Hurta of Colorado set a personal record of 4:30.58 to win the women's Mile crown by nearly two seconds over Arkansas' Krissy Gear (4:32.37).
First Sub-4 Mile trifecta – March 31
At Concordia, Argentina, his hometown, Federico Bruno of Argentina recorded the first track sub-4 minute Mile on South American soil, clocking 3:59.27. The mark was also Bruno's and his country's first sub-4, a historic Mile trifecta. Brava, Bruno!
Avila, Schneider shine as USA Road Mile Champions – April 21
In exciting races on a point-to-point course, Eric Avila and Rachel Schneider earned USATF 1 Mile Road Championship titles in Des Moines. Avila, 31, held off a late charging Craig Engels to claim his first national title in 3:59.0, while Schneider, 29, also won her first USA crown with a road Mile PR clocking of 4:30.3, covering the final 400 meters on the Blue Oval at Drake Stadium in 64.8 seconds to hold off Shannon Osika by 10 meters.
BYU's Clinger, Bons rare sub-4s at altitude – April 24
At the BYU Robison Invitational in Provo, Utah, two BYU athletes — sophomore Casey Clinger and freshman Lucas Bons — broke 4 minutes in the Mile at altitude (4,600 feet), timed in 3:59.02 and 3:59.28, respectively. The duo joined BYU legend Doug Padilla as the only runners to go sub-4 on Utah soil. NOTE: Padilla's 3:57.23 in 1983 at BYU is the fastest Mile by an American at altitude (#6 individual all-time).
For Clinger, the mark was his first sub-4 Mile, and he also became the first American to record his first sub-4 at altitude, outdoors.
Nathan Green runs 6th fastest U.S. high school-only Mile – June 4
At the YMCA Invitational in Boise (2,700 foot elevation), Nathan Green, a Borah (ID) High School senior, clocked a U.S. #1 outdoor Mile time of 4:00.97 for 2021. The University of Washington recruit also recorded the 6th all-time U.S. high school-only Mile as well as becoming the #19 individual all-time in U.S. prep history.
Addy Wiley clocks 7th fastest U.S. girls high school-only Mile – June 12
At the RunningLane Track Championships in Madison, AL, Addy Wiley, a Huntington North (IN) High School junior, won the Mile in 4:38.14, becoming the 7th fastest U.S. girl in a high school competition ever and also setting an Indiana high school state record. Runner-up was Sadie Engelhardt, a California 8th grader, who ran an age 14 world record of 4:40.16 (old mark, Mary Decker, 4:40.1 (indoors, hand-timed), 1973).
U.S. Women Best Ever at U.S. Olympic Trials – June 21
At the new Hayward Field in Eugene, OR, Elle Purrier St. Pierre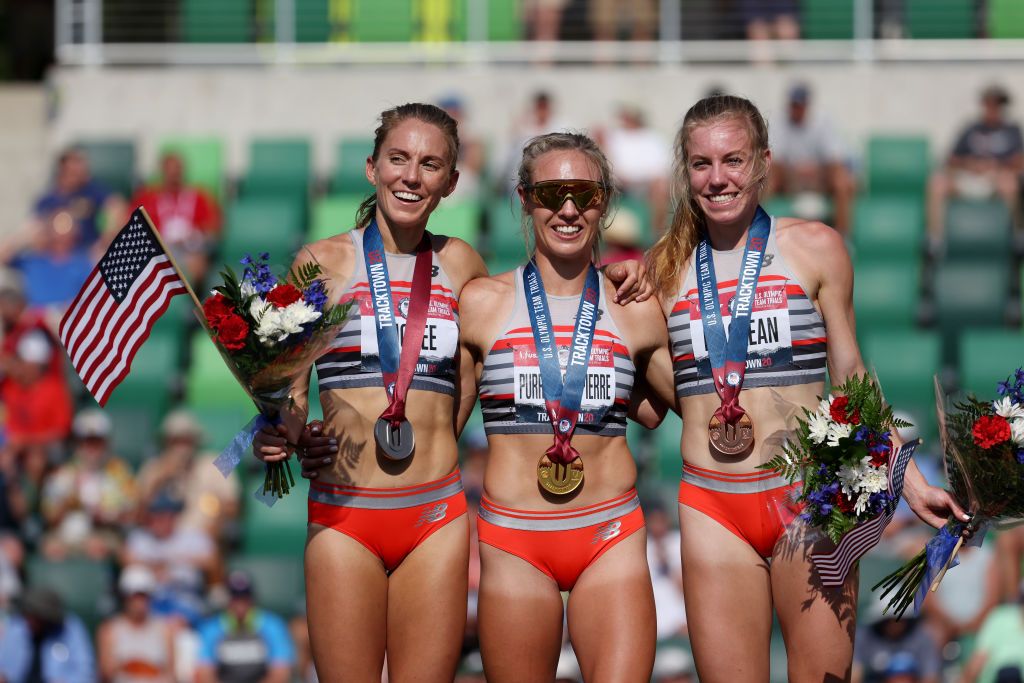 , leading wire-to-wire on a warm evening, won the U.S. Olympic Trials 1500 meters in dominant fashion, setting personal and meet records of 3:58.03 (old mark 3:58.92, Mary Slaney, 1988). Cory McGee finished second, running a near 3 second personal record of 4:00.67, while Heather MacLean earned the coveted third Olympic spot, clocking a 3-plus second PR of 4:02.09. The trio all qualified for their first Team USA (Tokyo).
This exciting event also produced the deepest U.S. women's results ever in its history: first time the top 4 sub-4:03, first time the top 10 sub-4:08 plus 6 personal records. Also, in 2021, a record 15 U.S. women broke 4:05 in the 1500 (previous record, 12, in 2019). #AGT
McSweyn wins Dream Mile – July 1
At the newly and aptly named Svein Arne Hansen Dream Mile in Oslo, Stewart McSweyn won the iconic event in 3:48.37, setting an Australian record and clocking the fastest outdoor Mile time since 2014. Marcin Lewandowski was runner-up in 3:49.11, a Polish record. Ten men went sub-4. Hansen, who passed away in 2020, was the longtime meet director of the Bislett Games and former European Athletics president.
Like Father, Like Son – July 1
At the WISCO Mile in Milwaukee. Olin Hacker recorded a 3:59.04, joining his father Tim in the exclusive Father / Son Sub-4 Club as the 14th such combo.
Grace's marvelous Millicent Fawcett Mile – July 13
At the Diamond League meet at Gateshead, Kate Grace displayed her 800 meter speed with a dominant finishing kick to win the Millicent Fawcett Mile in 4:27.20. The American veteran led five other women under 4:30. During her Diamond League two-week tour, Grace also reset her 800m personal record three times, ending with a 1:57.20 at the Herculis Meet in Monaco
Sinclaire Johnson shatters Liberty Mile record – July 23
At the Fleet Feet Liberty Mile in Pittsburgh, in the home stretch, Sinclaire Johnson pulled away from defending champion Shannon Osika to shatter the event record, clocking 4:27. Osika was runner-up in 4:30, also under the old mark of 4:32 by Heather Kampf (2013). The men's race was a blanket finish with Vincent Ciattei winning in 3:59, tying the event record. Colby Alexander and Craig Engels were second and third, 3:59 and 4:00.
Centrowitz clocks sub-3:50 Mile before Tokyo Olympics – July 24
In Portland, as a pre-Olympic tune-up, Matthew Centrowitz won the Centro Mile in a personal record of 3:49.26 (#4 U.S. all-time), clocking the fastest Mile on U.S. soil by an American; previous mark: 3:49.89 indoors, Bernard Lagat, 2005. The reigning Olympic champion also ran the first sub-3:50 outdoors by an American on home soil.
Gregorek, Barnett rock Cleveland at Guardian Mile – July 31
At the Guardian Mile in Cleveland, Johnny Gregorek and Grace Barnett not only won their respective races and set course records, but also clocked the fastest Mile time ever per gender in the state of Ohio, 3:49.07 and 4:21.58. Overall, 13 men went sub-4 and 8 women ran sub-4:30.
Norris, Beamish front fast times at Sir Walter Miler – August 6
At the Sir Walter Miler in Raleigh, NC, Josette Norris continued her 2021 winning ways to record her first sub-4:30 Mile in 4:25.92, a world leading time, and also led eight other women under 4:30. Overall, a record six U.S. women joined that select club in the same race. New Zealand's Geordie Beamish won the men's race in 3:54.92. Ten men went sub-4 and three for the first time.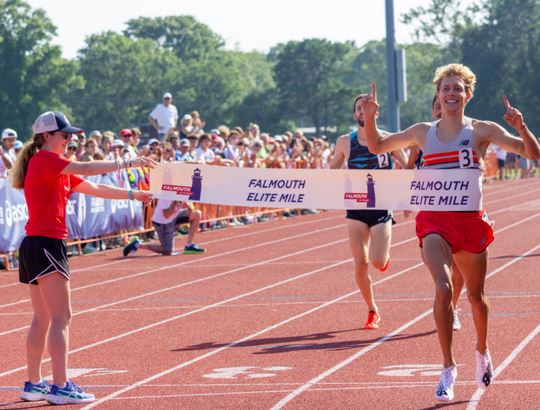 Hot day, fast trio at Falmouth Elite Mile – August 14
On a hot, humid summer afternoon at the 25th Falmouth Elite Mile, Charles Philibert-Thiboutot of Canada won in a personal and event record of 3:52.97. The Canadian Olympian also set a Massachusetts state outdoor Mile record. Americans Craig Engels and Johnny Gregorek, second & third at 3:53.97 and 3:54.01 respectively, were also under the old event and outdoor state Mile record of 3:54.89 by Jordan McNamara at the 2011 race.
The women's race was tactical as British Olympian Amy-Eloise Markovc just edged 2018 runner-up Helen Schlachtenhaufen, 4:41.03 to 4:41.05.
Ingebrigtsen breaks Bowerman Mile record – August 21
At the Prefontaine Classic, Norway's Jakob Ingebrigtsen, just 20, convincingly won the Bowerman Mile in 3:47.24, setting U.S. All-Comers outdoor, meet and national records as well as the fastest Mile of the year. Over the final 200 meters, the Tokyo 1500m gold medalist pulled away from Australia's Stewart McSweyn who finished runner-up in 3:48.40.
Hiltz hits fastest Mile on Washington state soil – August 28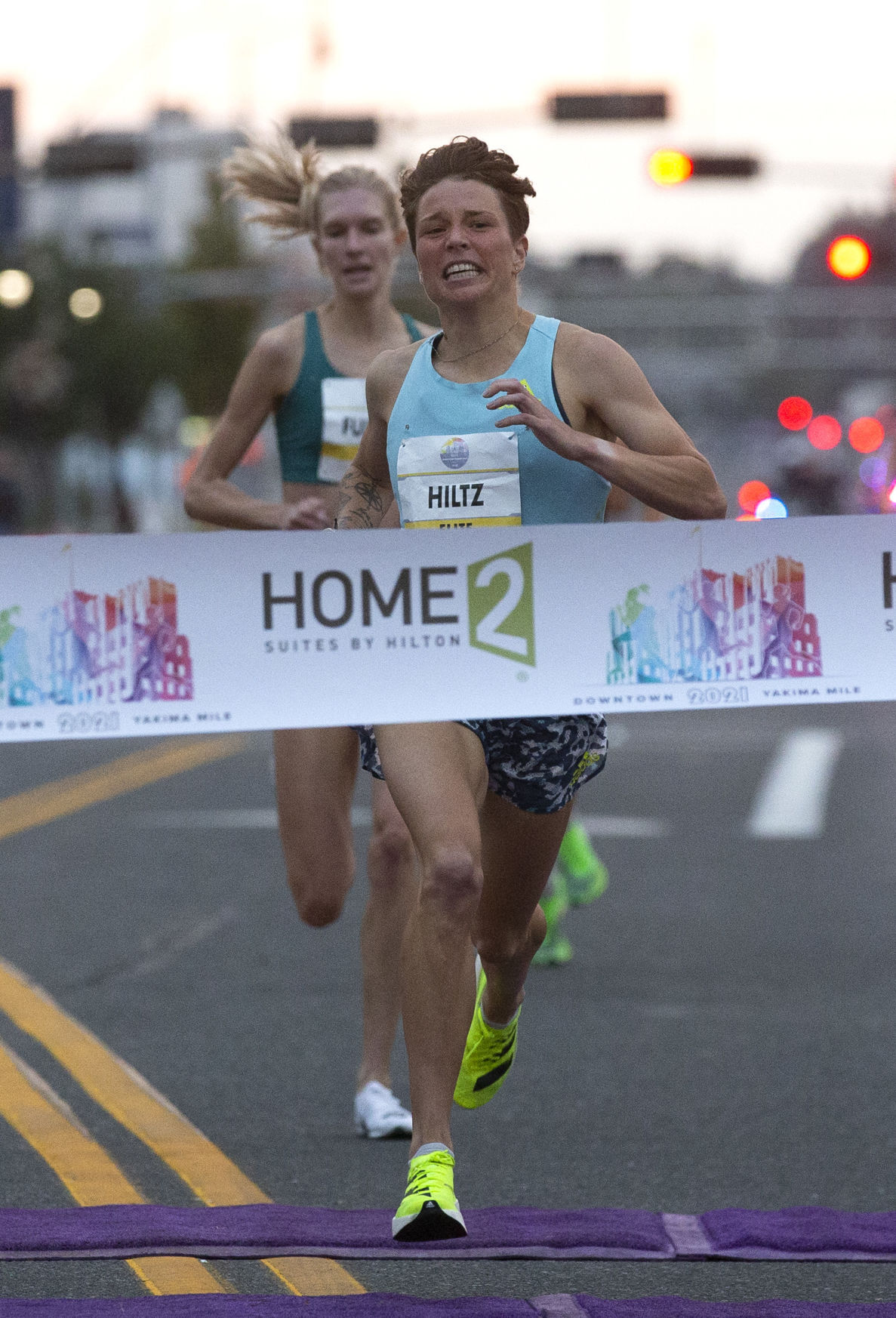 On the Downtown Yakima Mile's point-to-point, downhill USATF certified course, Nikki Hiltz pulled away from Eleanor Fulton over the final two blocks to capture the women's race and she doubled her payday to $10,000 by clocking the fastest women's Mile on state soil with a time of 4 minutes, 21.5 seconds (4:22 official) – $5000 for the win and $5000 time bonus.
Sam Prakel held off Tripp Hurt to win the men's race, 3:55 to 3:56. Overall, 12 men went sub-4 minutes.
Hassan dominates Brussels Diamond League Mile – September 3
At the Allianz Memorial Van Damme meet in Brussel, Sifan Hassan dominated the women's Mile, winning by more than 6 seconds, a world leading 4:14.74 to runner-up Axumawit Embaye's 4:21.08. The two-time Tokyo Olympic champion and Mile world record holder now has 3 of the top 5 all-time performances. Overall, 11 women went sub-4:30, including personal records by Americans, Elise Cranny (4:21.90, 5th) and Josette Norris (4:22.71, 6th).
Wightman, Reekie 5th Avenue Mile champions – September 12
Professional racing returned to the streets of New York City at the 40th New Balance 5th Avenue Mile. Tokyo Olympians Jake Wightman and Jemma Reekie led a British sweep, clocking 3:49.5 and 4:21.6, respectively. It was also the first Scottish sweep at the iconic road race.
Ollie Hoare of Australia was the runner-up in the men's race in 3:50.3, followed by Great Britain's Jake Heyward in 3:50.4. Sam Prakel was the top American finisher, taking fourth in 3:50.4 Overall, 15 men went sub-4 minutes.
For the women, American Nikki Hiltz was runner-up in 4:23.0, followed by countrywoman Shannon Osika in third, clocking 4:23.2. Overall, 11 women ran under 4:30.
Also, brava & bravo to the following top Milers who retired this year: Heather Kampf (four-time BBTM Grand Prix champion) & Amanda Eccleston and Daniel Herrera (two-time BBTM GP Tour champ), Riley Masters (BBTM GP Tour champ), Kyle Merber & Patrick Casey. Take a bow, and thanks for the memories and the support!
NOTE: At the Portland Track Festival on May 29, teen phenom Hobbs Kessler ran a mind-blowing 3:34.36 for 1500 meters to shatter the American Junior record that legend Jim Ryun set 55 years earlier (3:36.1); he also demolished Alan Webb's U.S. High School record from 2001 (3:38.26). Overall, the Skyline senior (Ann Arbor, MI), who turned 18 just 76 days before, finished 5th overall to qualify for the U.S. Olympic Trials as well as earning the Olympic standard. Youth is served.