Stacked field also expected at Pre Classic International Mile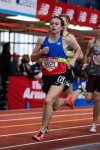 May 21, 2018
High schooler and future Oregon Duck Brodey Hasty eyes first sub-4 minute Mile against young talented competition
EUGENE, Ore. – The Prefontaine Classic's International Mile – born in 2010 after the meet became inundated by interest in its famous Bowerman Mile – is a world class race featuring established Milers as well as rising stars. This year on Saturday, May 26th, two of the finishers will be part of some fantastic Mile history.
Whoever wins will record the 400th sub-4 Mile in Pre Classic meet history. And whoever finishes in 6th place will own the 500th sub-4 time ever achieved at Hayward Field. (A chronology of some of Hayward Field's most memorable Mile races can be found HERE)
Even without historical milestones, the field was already top shelf with a former two-time winner running for the first time in two years and a high schooler looking for his first sub-4 on the campus that is soon to be his new home.
James Magut, 27, is from Kenya and has only raced five times in the U.S. – all in a Mile at the Pre Classic. But he hasn't finished a race anywhere since he was 5th in the 2016 Kenyan Olympic Trials 1500. He is cautiously returning from injuries that prevented him from even trying to defend his Commonwealth Games 1500 title.
Magut won the 2012-13 International Mile races, then ran his PR 3:49.43 for 5th in the first of three Bowerman Miles. Earlier in 2014, he had teamed with three other Kenyans to obliterate the world record in the 4x1500 at the World Relays.
18-year-old Brodey Hasty is sure to capture attention. The high school senior from Brentwood, Tenn. has signed with Oregon and seeks his first sub-4 Mile after missing by just 0.05 seconds at the famed Millrose Games this winter. In March he won his second indoor national high school 2 Mile title. See U.S. sub-4 high school list HERE.
Kyle Merber, 27, is a Columbia grad who owns school records in the outdoor 1500 and indoor Mile. A 4-time Ivy League individual champ for the Lions, Merber has been ranked among the U.S. Top 10 by T&FN every year of his post-collegiate running career. He was the second fastest American Miler last year at 3:52.22.
Drew Hunter, 20, ran a PR in the 2016 Bowerman Mile as the local crowd got their first look at the Oregon signee; that summer, however, he changed his mind and turned professional. Hunter lowered his Mile PR to 3:56.72 last Friday at the adidas Boost Boston Games, and in April, the rising star won the BAA road Mile and was runner-up at the Drake Relays Mile.
Four more Americans will be running their first Pre Classic Mile. Izaic Yorks, 24, is this year's second fastest Miler with an indoor 3:53.40. The 2016 NCAA 1500 runner-up from Washington is a two-time Pac-12 champion. Henry Wynne, 23, won the 2016 NCAA Indoor Mile for Virginia and lowered his Mile best this winter to 3:55.23. Riley Masters, 28, is a former NCAA All-American from Oklahoma who started at Maine. He won the U.S. road Mile title in April and PRed in the 5000 meters at 13:16.97 in the Jordan Invitational earlier this month. Blake Haney, 22, is a redshirt junior at the University of Oregon. Haney has an outdoor best of 3:58.79 set last year, and the 7-time All-American has already run 3:59.01 indoors in 2018.
Morocco's Fouad El Kaam, 29, was a finalist in last year's World Championships 1500 and won the 2016 African Championships. He was 5th in last year's International Mile and set his Mile PR of 3:54.21 at the 2014 Pre Classic. Right behind him in 2017 was Australia's Luke Mathews, 22, who like El Kaam, set his lifetime best in the race.
A note of interest for Mile fans: Norway's wunderkind, Jakob Ingebrigtsen, has been added to the field in the Bowerman Mile after his 3:39.06 win at Stanford. Last year as a 16-year-old, the youngest of 3 brothers set a new age record for the Mile, clocking 3:56.29.
International Mile Field / Personal Record
James Magut (Kenya) 3:49.43
Kyle Merber (USA) 3:52.22 (recent scratch)
Izaic Yorks (USA) 3:53.40
Fouad El Kaam (MAR) 3:54.21
Luke Mathews (AUS) 3:54.53
Henry Wynne (USA) 3:55.23
Riley Masters (USA) 3:56.15
Drew Hunter (USA) 3:56.72
Blake Haney (USA) 3:58.79
Brodey Hasty (USA) 4:00.05, high schooler

Fans can follow the event lineups as all announced fields are posted at PreClassic.com. The direct link to current start/entry lists is HERE and will include updates to all announced fields.
Tickets for the 44th edition of the Prefontaine Classic, to be held May 25-26 at historic Hayward Field in Eugene are available at www.ticketmaster.com, as well as at 1-800-WEBFOOT and the Autzen Stadium ticket window. Sponsored by NIKE continuously since 1984, the Prefontaine Classic will be shown live to an international audience by NBC.
The Prefontaine Classic is the longest-running outdoor invitational track & field meet in America and is part of the elite IAAF Diamond League of meets held worldwide annually. The Pre Classic's results score has rated #1 or #2 in the world in each of the last seven years by All-Athletics.com, the official data partner of the Diamond League.