Simpson Secures Record 6th Win at New Balance 5th Avenue Mile, Willis Earns Record 4th Title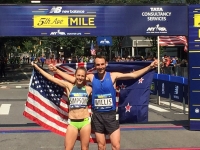 September 10, 2017
Overall, a record 19 men clock sub-4 and 6 women sub-4:20 in same race; at 37th edition in 23 heats, record-number 7,664 finishers, world's largest Mile!
From NYRR
NEW YORK – The USA's Jenny Simpson raced to her record-extending sixth win – matching the event record time of 4:16.6 in the process – and New Zealand's Nick Willis took the tape in 3:51.3, tying the men's record with his fourth event title, at the New Balance 5th Avenue Mile on Sunday afternoon.
In the world's largest and longest running road Mile race, 31-year-old Simpson won for the sixth time – the fifth time consecutively – with her time of 4:16.6 tied PattiSue Plumer's longstanding event record from 1990. It was also new personal-best time for Simpson, who ended her 2017 season on top of the podium after having already won silver over 1500 meters at August's IAAF World Championships in London.
"I thought the course record would have been out of reach for my whole career, so I'm really proud to have equaled it," Simpson said. "I've had all the range of emotions before on 5th Avenue. I've finished this race before and cried because the season felt so long. I've finished this race before and hoped there was another race the next week. I feel so appropriately in the middle of those two emotions right now."
Great Britain's Laura Weightman, 26, took second in the women's race in her second appearance on 5th Avenue, clocking in at 4:17.6. Her compatriot Jessica Judd, 22, was third in 4:18.3 in her event debut. Both times were personal bests for the British women.
Willis, 34, won his fourth event title to add to his victories from 2008, 2013 and 2015. The four-time Olympian and two-time Olympic medalist, who trains in Ann Arbor, MI, is now tied with Spain's Isaac Viciosia for the most men's 5th Avenue Mile titles.
Great Britain's Chris O'Hare, 26, finished as the men's runner-up for the second time in three years, clocking 3:52.0. Rio Olympian Ben Blankenship, 27, was the top American finisher on the men's side, finishing third overall in a personal-best time of 3:52.3.
Overall, a record 19 men broke the sub-4 minute standard, while 6 women went sub-4:20 in same race. Previous men's record was 17 at this event in 1990, 2010 & 2016 and also the 1995 Cherry Street Mile (OK) and previous women's mark was 5 (Müller Anniversary Games 2017, track).
In total, 7,664 finishers crossed the finish line at this year's New Balance 5th Avenue Mile, the most ever in the 37-year history of the event. The previous record number of total finishers was 6,330, set in 2015.
Twenty-three races took place throughout the day, including specialty heats such as the Youth Wheelchair Invitational, George Sheehan Memorial Mile for seniors, the Media Mile, the NYPD / FDNY Mile and the New Balance 5 Borough Mile, which brought together teams of 20 runners from each of New York City's five boroughs in a race to prove which borough is the fastest. Brooklyn was the winning borough of the first-ever New Balance 5 Borough Mile, while NYRR Team for Kids Ambassadors Tiki Barber, Sam Ryan and Nev Schulman all participated in the Media Mile and will be racing the TCS New York City Marathon later this year.
37th New Balance 5th Avenue Mile
New York, NY, Sunday, September 10, 2017
MEN
1) Nick Willis (NZL), 3:51.3, $5000
2) Chris O'Hare (GBR), 3:52.0, $3500
3) Ben Blankenship (USA / OR), 3:52.3, $2500
4) Adel Mechaal (ESP), 3:52.6, $1500
5) Colby Alexander (USA / NJ), 3:52.6, $1000
6) Eric Jenkins (USA / OR), 3:52.6, $750
7) Jake Wightman (GBR), 3:52.9, $500
8) Johnny Gregorek (USA / NY), 3:52.9, $250
9) Ryan Gregson (AUS), 3:53.3
10) Ryan Hill (USA / OR), 3:53.6
11) Patrick Tiernan (AUS), 3:53.8
12) Robby Andrews (USA / NJ), 3:54.2
13) Craig Engels (USA / OR), 3:54.5, $1000p
14) Kyle Merber (USA / NY), 3:54.8
15) Filip Ingebrigtsen (NOR), 3:55.6
16) Edward Cheserek (KEN), 3:56.6
17) Graham Crawford (USA / NC), 3:57.6
18) Daniel Winn (USA / MA), 3:57.9
19) Mason Ferlic (USA / MI), 3:59.6
20) Kemoy Campbell (JAM), 4:02.9
p = Earned prime for leading at halfway
WOMEN
1) Jenny Simpson (USA / CO), 4:16.6*, $5000
2) Laura Weightman (GBR), 4:17.6, $3500
3) Jessica Judd (GBR), 4:18.3, $2500 + $1000p
4) Brenda Martinez (USA / CA), 4:18.4, $1500
5) Eilish McColgan (GBR), 4:19.2, $1000
6) Dominique Scott (RSA), 4:19.6, $750
7) Heather Kampf (USA / MN), 4:20.6, $500
8) Colleen Quigley (USA / OR), 4:20.6, $250
9) Emma Coburn (USA / CO), 4:20.8
10) Linden Hall (AUS), 4:21.7
11) Sara Vaughn (USA / CO), 4:21.7
12) Genevieve LaCaze (AUS), 4:23.8
13) Shelby Houlihan (USA / OR), 4:26.3
14) Sara Sutherland (USA / CO), 4:26.9
15) Sarah McDonald (GBR), 4:28.1
16) Margherita Magnani (ITA), 4:28.8
17) Emily Infeld (USA / OR), 4:30.3
18) Lauren Johnson (USA / IN), 4:30.7
19) Hannah Fields (USA / WA), 4:30.9
20) Courtney Frerichs (USA / OR), 4:31.3
* = Tied event record, PattiSue Plumer (USA / CA), 1990
p = Earned prime for leading at halfway
Full results, coverage and more at: NYRR.org
Photo above courtesy of NYRR
Photo below courtesy of PhotoRun.net