Shelby Houlihan's Afterburners Ready to Be Lit Again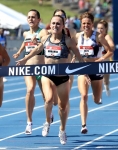 June 06, 2020
She intends to run both the 1500 and 5000 at the Olympic Trials next year even though the Tokyo Games schedule precludes serious consideration of racing both there.
By Sieg Lindstrom, Track & Field News
"We become what we behold. We shape our tools and then our tools shape us."
Case in point, Shelby Houlihan, 1500 U.S. record holder, the Bowerman TC's Rio Olympics 5000 finalist who stepped down to the 1500 in 2018 and has rated #1 among Americans in the metric Mile the past two seasons. The quote is often attributed to media critic Marshall McLuhan although evidence suggests the words may have originated with a colleague.
No matter. The spike fits Houlihan, 27, who took her 1500 pedigree from her college career at Arizona State, steeped it for three seasons in Bowerman coach Jerry Schumacher's endurance-building program and emerged as the #1 World Ranker for '18 with a blinding finish befitting her prep history as an Iowa state champion in the 400 and 4×4 (plus 800 and 1500). Yet she has also successfully doubled at the USATF Champs in the 1500 and 5000 the past two years, dropped the American Record in the 12½-lapper to 14:34.45 and prevailed at the '19 USATF Cross Country over 10K.
That thar's a full toolbox. "I ran the 15 in college pretty much the whole time," Houlihan says of her evolution. "I was able to win an NCAA title ['14]. I think my first year pro I kind of switched over to the 5K. I had some work to do just building that aerobic base more. I always had that seed and I always had a kick at the end of races if it was slow enough.
"But it was like my struggle was being aerobically strong enough to be able to have my kick off of fast paces. That wasn't ever able to click just because I had some catching up to do in terms of that. I never really ran a lot of mileage in high school and I was really, really slow to build that in college just 'cause I was more focused on not getting hurt."
Houlihan cites as her game-changing moment the 2018 Pre Classic, "my first big win and the first time I broke 4:00 [3:59.06]," outsprinting World Indoor silver medalist Laura Muir and Jenny Simpson. At that year's outdoor Nationals Houlihan blasted her final circuit in 57.66. At last summer's World Champs Trials she waited till the last backstretch before bolting yet still pulled off a fastest-in-the-field 60.59 closing circuit.
Few will forget how the World Championships final 9 weeks later in Doha went. The Netherlands' Sifan Hassan front-ran all prospects of a kicker's race into oblivion. Houlihan, formcharted for a medal, came tantalizingly close as her 3:54.99 for 4th in one of the event's all-time great races cut 1.30 from Shannon Rowbury's American record.
"That was a bittersweet race, obviously," Houlihan says. "I felt like I was the most prepared that I had ever been going into a World Championship or that type of championship race. And I was super-confident and I kind of had that mindset of, 'I don't care what happens, I'm gonna walk away with a medal here. I'm in great shape. I think I'm in around 3:54 shape.'
"And I did that, which was awesome. To be able to string together everything and know that you're in this type of shape and actually go out and do it, that's an achievement in itself. But yeah, I kinda just went into that race very confident. I was like, 'If I'm in 3:54 shape, there's no way I don't medal.' You know, statistically or historically, in races that should medal."
Continue reading at: trackandfieldnews.com
NOTE: The eighth and final in a series of TFN event-focus articles on the U.S. women's 1500, an event on a hot streak and one in which we expect to see fierce-fierce racing when the competitive trek toward the Tokyo Olympics resumes.