Seven-time champion Jenny Simpson to defend New Balance 5th Avenue Mile crown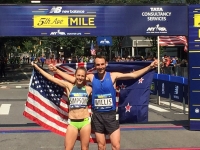 August 21, 2019
Stellar fields including four-time men's champ Nick Willis at world's most iconic road Mile; $34,000 prize purse; inaugural Back to School Mile added to 39th edition; event to be broadcast live on NBC beginning at 12:30pm ET
From NYRR
NEW YORK – Olympic medalist Jenny Simpson will race for her record-extending eighth title and two-time Olympic medalist Nick Willis will chase his record-breaking fifth men's title at the 39th New Balance 5th Avenue Mile on Sunday, September 8, as they lead a professional athlete field that includes several runners competing in the IAAF World Championships in Doha later this fall.
The event stretches 20 blocks down Manhattan's most famous thoroughfare and is expected to draw nearly 8,000 runners across 24 heats. It includes specialty heats for youth and seniors, with the professional athlete races rounding out the day. In partnership with New York Road Runners and USA Track & Field, NBC will broadcast the professional athlete races live on NBC at 12:30pm ET.
In 2019, NYRR is celebrating 20 years of providing free youth running programs, which now serve 250,000 kids around the country. To mark the occasion, the event's first Back to School Mile will be added to the schedule of heats. It will run shortly before the professional athlete races and is free and open to New York City's Department of Education teachers and staff. Leading the way in the Back to School Mile will be NYRR Team for Kids Ambassador Meb Keflezighi, the only person ever to win the New York City Marathon, Boston Marathon and an Olympic Marathon medal.
"The New Balance 5th Avenue Mile is such an iconic road race that allows people of all ages and abilities to participate in the event on one of the most famous streets in New York City," said Michael Capiraso, president and CEO of New York Road Runners. "This year will be incredibly special, as we celebrate 20 years of NYRR's free youth programming with a special Back to School Mile that features the city's Department of Education teachers and staff running alongside Meb, a legend in the sport."
In the professional women's race, Simpson, who serves as an ambassador and special advisor to NYRR's youth programs, owns the event-record time of 4:16.6 on Fifth Avenue that she set when winning the race in 2017. She has earned three IAAF World Championships medals in the metric Mile, beginning with a gold at the 2011 World Championships. She followed that with a silver in both 2013 and 2017. In 2016, she took bronze in the 1500 meters at the Rio Olympics, making her the first American woman in history to reach the podium in that event.
"I've had the New Balance 5th Avenue Mile circled on my calendar since last year's race," Simpson said. "Every year I look forward to running down Fifth Avenue, and this year I'm excited to race for a record-extending eighth title at the event and celebrate New York Road Runners' 20th anniversary of free youth programming as the next generation of runners head back to school."
Simpson will be challenged in the professional women's race by Nikki Hiltz, who just won 1500 meter gold at the Pan American Games and has been America's best road Miler in 2019 with wins at the BAA Mile, adidas Boost Games Mile, and the USATF Road Mile Championships. Allie Ostrander, a three-time NCAA champion in the steeplechase who qualified for her first World Championships this fall, will join them as she lines up for her first road race as a professional athlete. Elinor Purrier, who also qualified for her first World Championships this year, will look to contend as well. Canada's 2019 national champion Genevieve Lalonde and Olympian Jessica O'Connell, and Great Britain's Jessica Judd, will lead the international contingent.
Leading the professional men's field will be Willis, a four-time New Balance 5th Avenue Mile champion and two-time Olympic medalist who finished runner-up last year. Willis, who won the event in 2008, 2013, 2015, and 2017, is tied with Spain's Isaac Viciosa for the most career victories in the men's race. Challenging him as he goes for a record-breaking fifth title will be Great Britain's two-time New Balance 5th Avenue Mile runner-up Chris O'Hare and road 5K world record holder Edward Cheserek, who is the most decorated athlete in NCAA history with 17 titles at the University of Oregon. Also joining them at the start line will be Johnny Gregorek, who is fresh off a silver medal at the Pan American Games and the world's fourth fastest Miler this year.
Professional Field – Men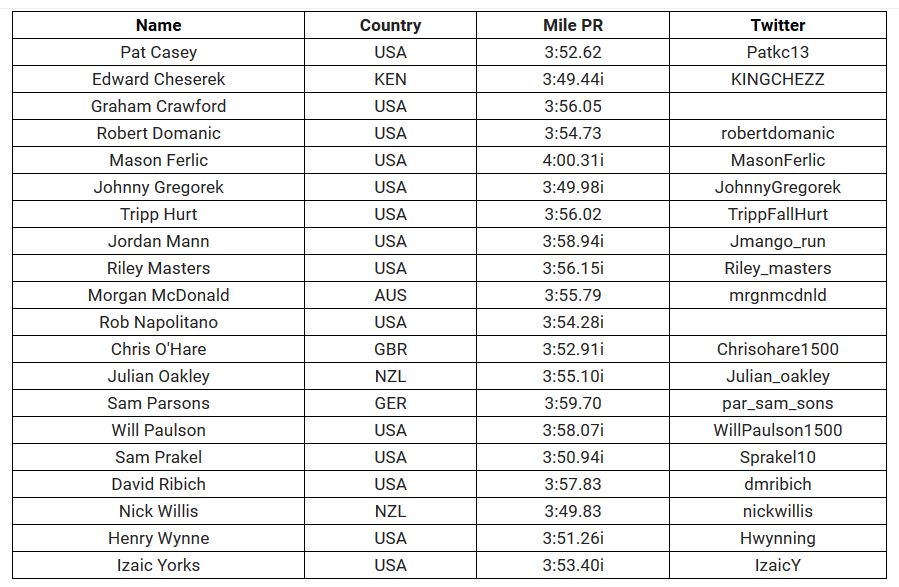 Professional Field – Women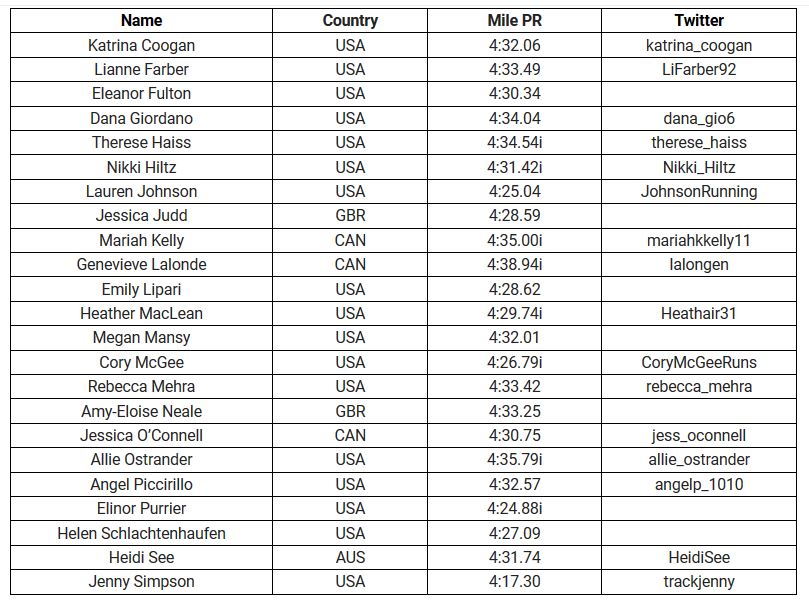 For more information, go to: nyrr.org