Schoolboy Webb breaks 4 minute Mile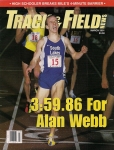 January 20, 2001
First U.S. prep to run sub-4 indoor Mile with 3:59.86 clocking; also 4th U.S. high schooler under 4 minutes for storied distance
By Sabrina Yohannes, IAAF.org
Alan Webb, 18, became the first American high school athlete to run under 4 minutes for the indoor Mile on Saturday. Webb's time of 3 minutes, 59.86 seconds at the Armory Track & Field Center in New York also makes him just the fourth U.S. high schooler and the first in over 30 years, to run a sub-4 minute Mile, indoors or out. The last was 1968 Olympian Marty Liquori, in 1967.
"I feel really good," said Webb. "It's an amazing feeling. I've thought about it a lot."
En route to his third place finish in the Mile event, where he was the only high school athlete in an elite invited field, Webb was timed at 3:43.27 for 1500 meters, which is itself a high school record. The previous records for both distances were set by Thom Hunt, who ran 4:02.7 for the Mile in 1976.
The men's and women's Mile races were the only elite events at the otherwise high school level New Balance Games Saturday. Leonard Mucheru of Kenya won the men's event in 3:57.90 and Amy Rudolph, the women's in 4:28.47, followed by fellow Americans Jody Dariano and Liz Diaz.
"I was confident because I have been training very well in Kenya," said Mucheru, 21, who hails from Nyandarwa in central Kenya but will spend the next two weeks in Pennsylvania before returning to New York for the Millrose Games. Mucheru was fourth in the 2000 World Cross Country Championship short course and his primary goal for this season is qualifying for the 2001 championships in pursuit of a medal.
His victory at the Armory was swallowed up in the celebrations surrounding Webb's feat. "I heard there was a high school guy, but I didn't know he was that fast," said Mucheru. "I think he will be wonderful if he continues training."
Webb, who is in his final year at South Lakes High School in Reston, Virginia, ran in second place behind Mucheru and well ahead of the rest of the pack for most of the race before being overtaken by American Matt Holthaus at the finish. Webb's previous best times for the Mile, both from last year, were 4:03:33 outdoors and 4:07:87 indoors.
Continue reading at: iaaf.org
U.S. high school sub-4 list HERE.
Full race video below.