Rowbury is undaunted by coronavirus or Olympics postponement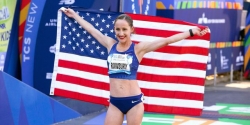 March 26, 2020
"I hope I can race well and show that even though I'm 35 and even though I have a child, my ability as an athlete hasn't diminished and I deserve to have a contract, have an opportunity to toe the line at nationals, hopefully make that Olympic team and go after a medal."
By Ken Goe | The Oregonian / OregonLive
Three-time Olympian Shannon Rowbury is 35. At this point in her career, who knows what the future holds?
It won't include a trip to Tokyo for the Olympics this summer. The 2020 Tokyo Games were postponed for a year by the global coronavirus pandemic.
Undaunted, Rowbury is sheltering in place in San Francisco, continuing to train and hoping for the best.
She is a commuting member of the Nike-sponsored, Portland-based team of elite runners coached by Pete Julian. Julian's group still expects to compete somewhere this summer.
"Whenever the races open up, I'll try to race -- June, July, August, whatever it might be," Rowbury said. "We'll treat it kind of like an off-year summer, when there is no championships, then do the normal buildup to try to get ready for the Olympics. We're assuming the Olympics will be next summer at around the same time. If that's different, we'll adjust."
For Rowbury, it's a complicated situation. Her daughter, Sienna, was born in June of 2018. She was injured last year. Her contract with Nike is up and the end of this year. She needs to show she is competitive at the world level.
"I'm hopeful I'll have an opportunity to race this summer," she said. "I hope I can race well and show that even though I'm 35 and even though I have a child, my ability as an athlete hasn't diminished and I deserve to have a contract, have an opportunity to toe the line at nationals, hopefully make that Olympic team and go after a medal."
Continue reading at: oregonlive.com