Pre Mile Classic: Rematch in Eugene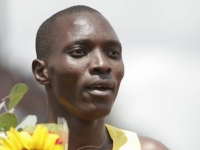 May 15, 2012
EUGENE, Ore. - (May 15, 2012) - Nobody does it better when it comes to the Mile than the Prefontaine Classic, and this year's 38th edition will add to that with a grudge match of the two best Milers in the world.
The Pre Classic, a major stop on the road to the 2012 London Olympics, and part of the elite Samsung Diamong League of international meets, will be held June 1-2 at Eugene, Ore. The meet features not one, but two world-class competitions of the men's Mile, an historic event with a following like none other. The more famous or the two races at Pre is the Bowerman Mile, since 2000 named after legendary Oregon coach and Nike co-founder Bill Bowerman. The more recent is named the International Mile, begun in 2010 as a result of athlete demand. It featured 10 runners under 3:58 in its inaugural year, and 8 runners under 3:58 last year.
Seeding of the Bowerman and International fields will be finalized over the next two and a half weeks leading up to the events, but sure to be included in the Bowerman are the #1 and #2 milers in world, Kenyans Asbel Kiprop (right) and Silas Kiplagat.
Continue reading at: diamondleague-eugene.com