Olympic Hopeful Johnny Gregorek Still Chasing Dream After Postponement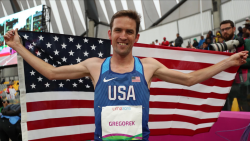 April 08, 2020
"I believe I can make the Olympics team and I know I can compete on that stage, but I'm approaching it with a more healthy, broad mindset of I just want to be the best runner I can be."
By Chris Chavez, Sports Illustrated
Thirteen months ago, Johnny Gregorek was still reveling in arguably the best race of his life, a 3:49.98 indoor Mile he ran in Boston. It made him and his dad, John Gregorek, the fastest father-son Mile duo in history. The performance also cemented Johnny among the country's rising middle-distance runners and proved his World Championship appearance two years ago wasn't just luck. He remained a valid candidate for an Olympic berth for Tokyo 2020.
But in the months that followed, Gregorek struggled to recreate the 3:49 magic during his outdoor campaign. In March 2019, Gregorek's younger brother, Patrick, suddenly passed away at the age of 21. As much as he wouldn't admit it at first, the emotional impact took its toll and Gregorek didn't race again until mid-May.
"Johnny's never been one to make excuses and he's also very private," Gregorek's father says. "He didn't want to talk much about what was going on, but we knew how difficult it was to toe the line and get out there. He also wanted to try to do well and had some extra pressure because even though he wouldn't say it, he wanted to do well in his brother's memory. That was weighing on him. He's coming out on the other side and we all are as a family."
Gregorek raced through the summer, reached another USA Championship final in the 1500 meters but failed to qualify for his second World Championship team. After a somewhat redemptive silver medal run at the 2019 Pan American Games in Lima, Peru, Gregorek was prepared to decompress, regroup for the 2020 season and qualify for his first Olympic team, just like his old man.
"I like to think that in 2020, I have an equal amount of momentum and faith in myself to come through in 2021 and continue the ol' Gregorek Olympian tradition," Johnny says.
John Gregorek was 20-years-old and a rising junior at Georgetown when he qualified for the 1980 Games in Moscow in the 3000m steeplechase. However, Gregorek was forced to wait four years to fulfill his Olympic aspirations, after President Jimmy Carter called for a boycott of the Summer Games in response to the Soviet invasion of Afghanistan.
"It was certainly unexpected that I made the team," John says. "Being young and naive, I thought I made it now, I'll make it again in four years and realized it's not that easy. Not that I thought it would be, I was 20. I was in a position hoping 1984 and 1988 would be my shot. There were so many individuals where that was their last chance and it was difficult."
Members of the 1980 U.S. Olympic track & field team were invited to the 2008 Olympic Trials at Hayward Field in Eugene, Ore. The athletes each got a plus-one to the opening ceremony and a trip to the state capitol in Salem. Most athletes brought their spouses but John's wife, Christine (who was also an accomplished middle-distance runner who competed at the 1984 Olympic Trials in the 800 and 1500 meters), suggested Johnny attend the Trials as a 16-year-old. Gregorek beams when recalling that trip and compares it to Christmas morning, with Johnny soaking up the experience and meeting past stars of the sport.
"Since then, it's been a dream of mine to do it myself," Johnny says.
Continue reading at: si.com
Johnny Gregorek BBTM bio HERE.