Mikey Brannigan Wins Paralympic Gold Medal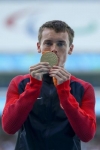 September 13, 2016
The teen runner with autism won the 1500 meters after leading the entire race in Rio de Janeiro.
By Erin Strout, Runner's World
Mikey Brannigan topped off a stellar 2016 track season on Tuesday with a Paralympic gold medal in the 1500 meters in Rio, where he led the race from beginning to end, winning by four seconds in 3:51.73.
The victory comes about a month after the 19-year-old broke 4 minutes in the Mile. At the Sir Walter Miler meet on August 5 in North Carolina, he finished seventh in 3:57.58, becoming the first person with a T20 Paralympic classification to break the coveted 4:00 mark. He also owns the T20 Paralympic world record in the event after finishing in 3:48.85 last summer at the U.S. Paralympic National Championships.
Continue reading at: runnersworld.com