Ingebrigtsen's star shines brightly with Olympic 1500m gold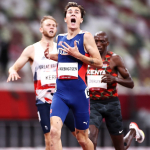 August 07, 2021
"This is what you want as a professional runner... I feel like I am just getting started. But at the same time, I have been dreaming of this for my whole life."
By Bob Ramsak for World Athletics
Jakob Ingebrigtsen capped his stunning rise from precocious talent to global middle distance superstar with a powerful victory in the Olympic 1500 meters in Tokyo on Saturday evening.
Yet again, the 20-year-old Norwegian illustrated poise, speed and confidence beyond his years with a virtuoso performance in the highest quality 1500m championship race in history that culminated in a 3:28.32 Olympic record which also smashed his European record.
And in the end, it wasn't even close.
Ingebrigtsen took command just 200 meters into the race to bring the field through the first lap in 56.4. That forced Timothy Cheruiyot's hand, whose penchant for fast front-running has electrified the event in recent years, leaving his opponents gasping in his wake. But Ingebrigtsen didn't seem to mind when Cheruiyot took the lead just over one lap into the race, ably giving chase as the Kenyan upped the pace from the front for the next 800 or so meters.
Stewart McSweyn was best at trying to keep within striking distance, but drifted back as he entered the back straight for the final time, turning the contest into a two-man race.
Cheruiyot poured it on but Ingebrigtsen was never farther than a meter back, simply waiting for his time to pounce. That came just beyond the midway point of the final turn, when Ingebrigtsen shifted into a gear Cheruiyot had never witnessed on the final lap of a race. Unable to summon a response, he simply watched the young Norwegian's back move further and further away. Ingebrigsten glanced to his side briefly as he powered down the homestretch. With victory secure, he raised his arms into the air just before he reached the line.
Cheruiyot felt some pressure in the waning stages and held on to take silver in 3:29.01, holding off Briton Josh Kerr, who powered to a 3:29.05 run, to smash his lifetime best by two-and-a-half seconds.
This was the first time Ingebrigtsen defeated Cheruiyot in their 13 meetings. It likely won't be the last.
"This is what you want as a professional runner," Ingebrigtsen said. "I've been able to do it on my first try and I feel like I am just getting started. But at the same time, I have been dreaming of this for my whole life."
Ingebrigtsen's star began to rise half a decade ago when his assault on age group records in the 1500m and Mile began. The 2018 European Championships, where he raced to 1500m and 5000m gold, served as his coming out party. Tokyo may serve as the starting point of a new 1500m era.
Notable too is that Ingebrigtsen handed Cheruiyot a rare defeat when the Kenyan was arguably at his best. Just one month ago, Cheruiyot clocked 3:28.28 in the Monaco leg of the Wanda Diamond League, a personal record.
"He's a good racer, he's a good athlete, a disciplined athlete. I'm happy about him," Cheruiyot said. But he added, "In the last 100 meters, I was feeling tired. I was feeling my right hamstring so I didn't manage to run to the finish line fast."
"It's pretty surreal," said Kerr, a finalist at the 2019 World Championships. "It's something you dream about for so long. It's surreal when you are finally living that moment that you've dreamed about for so long. It hasn't sunk in yet."
Kerr had a scare in the opening round heats where he finished seventh to barely advance to the semifinals.
"It's just testament to the team around me to get me into this position. From a small 'q' into the semifinal to the bronze medal, I've just got to be pleased with that."
Cheruiyot's teammate Abel Kipsang, who ran in third for much of the final lap, faded down the homestretch, clocking 3:29.56, also a lifetime best, to finish fourth. Behind him, Spain's Adel Mechaal and Cole Hocker of the USA stopped the clock in 3:30.77 and 3:31.40, PRs for both.
McSweyn paid for his early efforts over the last lap, eventually fading to seventh in 3:31.91. Further back, Michal Rozmys of Poland finished eighth in 3:32.67, also a career best.
Complete event results: heats, semis and final HERE