David Torrence's drive to run for his country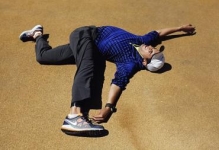 June 20, 2012
By John Crumpacker, San Francisco Chronicle
Being a Nike contract athlete means many things for former Cal runner David Torrence, not least the requirement that he be in company gear at all times when in public.
So when he was photographed recently wearing a jacket without the familiar logo, Torrence caught a little hell from the home office, even though his transgression was an inadvertent one.
Thus, for a recent interview, the 26-year-old was be-swooshed from his torso to his toes. It's only right, because his salary from Nike helps pay the rent on a six-bedroom home in the Oakland hills he shares with current and former runners.
Continue reading at sfgate.com