Bowerman Mile Slugfest Expected at Pre Classic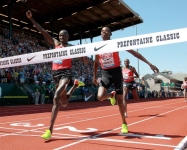 May 11, 2018
Kenyans Elijah Manangoi & Timothy Cheruiyot headline field plus three fastest Milers in Pre history, topped by two-time Bowerman Mile winner Ayanleh Souleiman – whose meet record of 3:47.32 is the fastest ever on U.S. soil.
EUGENE, Ore. – The world's top two current Milers will bring their rivalry back to the Prefontaine Classic as headliners for the Bowerman Mile, all set to be fast again on Saturday, May 26 in TrackTown USA..
Elijah Manangoi and Timothy Cheruiyot led a 1-2 Kenyan sweep in last year's World Championships 1500 meters in London and again as recently as April's Commonwealth Games in Australia, but they are far from the only great racers in the event that annually is the Pre Classic's finale.
Also returning are the three fastest Milers in Pre history, topped by two-time Bowerman Mile winner Ayanleh Souleiman – whose meet record of 3:47.32 is the fastest ever on U.S. soil.
Matthew Centrowitz is ready to return to Hayward Field for the first time since winning the Olympic gold medal in Rio. He is the fastest American Miler ever on this famed track, where he trained for Oregon.
Elijah Manangoi, 25, was the fastest and best last year in the 1500, winning World Championships gold in London after a silver in 2015 at Beijing. He was world ranked #1 last year by Track & Field News and lowered his 1500 best to 3:28.80 to become 9th fastest ever (and 5th fastest Kenyan). He made the powerful Kenyan Olympic team in Rio, but was injured in the heats.
Manangoi was principle in one of the most exciting Bowerman Miles ever in last year's Pre Classic. He and countryman Ronald Kwemoi battled to the closest finish in meet history, Manangoi just 0.04 seconds behind the year's fastest Mile with a PR 3:49.08 (Kwemoi is out of this year's meet due to a knee injury).
Timothy Cheruiyot, 22, has only three years of major racing, but he ended the last two seasons with victories in the IAAF Diamond League Final. Silver medalist in last year's London Worlds, he was only 19 when he made the 2015 Beijing final, finishing 7th.
Cheruiyot won his first Kenya national title last summer, then ran 3:31.05 at Nairobi's high altitude – a time faster than half the field has bettered at sea level. In last year's Bowerman Mile he was third in a PR 3:49.64 – his second PR at Hayward Field after a 2015 3rd place in the Pre Classic's International Mile.
Ayanleh Souleiman, 25, of Djibouti was just 0.05 seconds from a medal in Rio. He's gold at Hayward Field with two Bowerman Mile wins, including the fastest Mile ever on U.S. soil at 3:47.32. He won gold at the 2014 World Indoors in the 1500 and he has impressive 800 talent, taking bronze in the 2013 Worlds and owning a PR of 1:42.97.
Number 2 on the all-time Bowerman list at 3:47.88 is Kenya's Silas Kiplagat. At 28 he is running his best since winning Diamond League Trophies in 2012 & '14. He was world ranked #3 by TFN last year. Kiplagat won the 2013 Bowerman Mile and is the race's veteran with seven Hayward Field appearances, including three under 3:50, topped by a 3:47.88 that is second only to Souleiman's meet record.
Ethiopian record holder Aman Wote is the field's oldest at 34 and trails only Souleiman and Kiplagat on the Bowerman list. He was world ranked #7 by TFN last year – his first in the Top 10 since 2014 – and has raced in the Bowerman Mile five times, finishing 3rd three times including his best 3:48.60 in the epic 2014 race which saw 6 break 3:50. He just missed medaling at the World Indoor 1500 in March, taking 4th.
Matthew Centrowitz, 28, will have a homefield advantage like no other in the field. His return to the Pre Classic has been delayed by illness and injury the last two years, and local fans are eagerly awaiting one of their own who in Rio became the first American Olympic gold medalist since 1908 in the men's 1500 meters.
His success at Hayward Field includes his NCAA title for Oregon, three of his four outdoor U.S. titles, and the fastest Mile by an American on the track where both his dad (Matt Centrowitz) and coach (Alberto Salazar) starred and won Pre Classic titles. Centrowitz's Mile PR of 3:50.53 from the 2014 Bowerman Mile is the fastest ever run by an American at Hayward Field. In 2016, his 3:50.63 to win the Wanamaker Mile at the Millrose Games was the world's fastest that year and since 2013 he has recorded the three fastest Mile track races anywhere by an American.
Clayton Murphy, 23, was last year's fastest American Miler but his best glory so far has come in the 800, where his Rio Olympic bronze was the first by an American since Johnny Gray in 1992. His 800 PR of 1:42.93 is best in the field and #3 ever by an American. Murphy won the NCAA 1500 at Hayward Field for Akron in 2016 with the fastest time since 1987.
Ben Blankenship, 29, was also a Rio Olympic finalist, finishing 8th in the 1500 on his first U.S. team. He improved to 5th in March's World Indoor Championships. A former International Mile winner, he has PRed in both of his Bowerman Mile races. He was a two-time Big Ten indoor Mile champ while a Minnesota Golden Gopher.
Rising star Craig Engels, 24, will be making his Pre Classic debut. He was 3rd in last year's NCAA 1500 for Mississippi and made his first U.S. team this past indoor season, taking 7th at the World Indoors. He was the Pan-American Junior gold medalist in 2013 after his freshman season at North Carolina State. Engels now trains with the Nike Oregon Project and receives positive compliments on his mustache, which some say resembles Pre's.
Ethiopia's Samuel Tefera, 18, ran his first indoor race in January and set an indoor world Junior (U20) 1500 best of 3:36.05. In March he earned his first medal of any kind, gold at the World Indoor Championships in England. He has never run the Mile distance, but clocked 3:33.78 at 1500 last summer as a 17-year-old before making the heats of the London World Championships. Last month he ran 3:36.1 in the high altitude of Addis Ababa, winning his first national title by over two seconds.
Thiago Do Rosario André, 22, was 7th in last year's World Championships 800, where he has a best of 1:44.81. He torched the Pre Classic International Mile with a meet-record 3:51.99, winning by over a second with the second-fastest time ever by a Brazilian. In 2014, he was 4th in both the 800 and 1500 in the World Junior (U20) Championships at Hayward Field.
Vincent Kibet, 27, of Kenya was #6 in the TFN world rankings last year. He was 4th in last year's Bowerman Mile with a PR, but made more notice with his 4th in 2016 when he went from 7th to 4th in the wild homestretch finish. He was a finalist in the World Indoor in England in March and Portland in 2016.
Another Kenyan returning is Bethwell Birgen, 29, who PRed in his first two races in the Bowerman Mile. Birgen earned his first major medal in March in the 3000m at the World Indoors.
Sadik Mikhou, 27, of Bahrain will be making his U.S. and Mile debuts. Born in Morocco, he was 6th in last year's World Championships 1500 and owns a best of 3:31.34.

The Bowerman Mile is named for Bill Bowerman, a legendary figure in track & field history who co-founded Nike while coaching NCAA Championship teams four times at the University of Oregon (1962-70). Among his famous pupils was Steve Prefontaine, whom he recruited and guided to the Olympics. Bowerman passed away at age 88 on December 24, 1999, and the Pre Classic Mile has been known as the Bowerman Mile ever since. A compilation of all Pre Classic sub-4 Mile performances and other related statistics is available at PreClassicMiles. Since 2009, the U.S. Track & Field and Cross Country Coaches Association has named its highest award, The Bowerman, to the top male and female track & field athlete.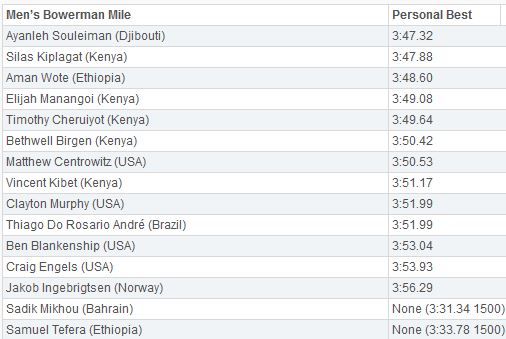 Fans can follow the event lineups as all announced fields are posted at PreClassic.com.
Tickets for the 44th edition of the Prefontaine Classic, to be held May 25-26 at Hayward Field in Eugene, Ore., are available now at www.GoDucks.com as well as from 1-800-WEBFOOT. Sponsored by NIKE continuously since 1984, the Prefontaine Classic will be shown live to an international audience by NBC.
The Prefontaine Classic is the longest-running outdoor invitational track & field meet in America and is part of the elite IAAF Diamond League of meets held worldwide annually. The Pre Classic's results score has rated #1 or #2 in the world in each of the last seven years by All-Athletics.com, the official data partner of the Diamond League.