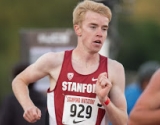 March 26, 2017
The O'Hara-Keelan sub-4 breakthroughs came 54 years apart.
By Paul O'Shea, Once Upon a Time in the Vest
"It's a brick wall. I shall not attempt it again."
--John Landy, after running between 4:02 and 4:03 six times in 1953.
Fortunately for the track & field world, the determined...
Read More
comments