Chicago's Greatest Miler Tom O'Hara: A Forgotten Hero, Still Running at 74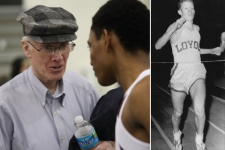 June 15, 2016
"If someone gives me a challenge, I try to beat them. That's the type I am."
By Justin Breen, DNA info
The greatest Miler in Chicago's history still loves to run.
Even at age 74 — 52 years after setting a world record that stood for 10 years — Tom O'Hara relishes a 30-minute jog around his local park.
"It's probably not even a 10-minute-Mile pace anymore, but I'm not interested in that," said O'Hara, the former star at St. Ignatius College Prep and Loyola University Chicago. "I just still generally enjoy it. It's a real break for me."
O'Hara's times have gone way, way down since the Bucktown native became the first Illinois runner to break the 4 minute barrier, clocking a 3:59.4 in 1963. He set the indoor Mile world record at Chicago Stadium on March 6, 1964, with a 3:56.4 — a mark he held until 1974.
Continue reading at: www.dnainfo.com