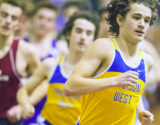 July 07, 2015
I knew my dad ran at Wisconsin and part of me always wanted to go there.
By Jon Masson, Prep Sports Wisconsin
Olin Hacker is not intimidated.
Rather, he is excited to follow in the footsteps of his father, Tim, who was a cross country and track champion at the University of Wisconsin.
Tim...
Read More
comments