Olin Hacker follows in the family footsteps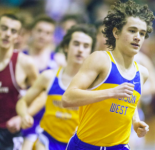 July 07, 2015
I knew my dad ran at Wisconsin and part of me always wanted to go there.
By Jon Masson, Prep Sports Wisconsin
Olin Hacker is not intimidated.
Rather, he is excited to follow in the footsteps of his father, Tim, who was a cross country and track champion at the University of Wisconsin.
Tim Hacker's fourth-place finish helped UW to its first NCAA cross country championship in 1982, and his individual national title led the Badgers to another cross country team crown in 1985.
"It's been my dream to go to Wisconsin for a while," said Olin Hacker, who selected UW over Stanford.
Hacker just completed his senior year at Madison West High School, wrapping up a standout high school career — capped by his selection as the Wisconsin State Journal/WisconsinPrepZone.com Boys Athlete of the Year for 2014-15.
Continue reading at: host.madison.com