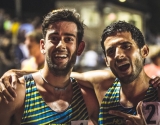 October 03, 2017
Being healthy is the number one priority. It's easy to always go hard, but sometimes it's hard to go easy.
By Will, Running Warehouse blog
If you follow American Track & Field, you're probably familiar with Kyle Merber. However, unless you've been closely following his career, you may not be...
Read More
comments