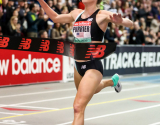 February 07, 2021
"At this time I really don't know what [Olympic Trials] event I'm doing - the 1500m or the 5K."
By Dave Hunter, RunBlogRun.com
A favorite, albeit shopworn, expression is "Hard work beats talent when talent doesn't work hard." It is a saying that can be witnessed and validated in many walks of...
Read More
comments