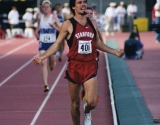 July 10, 2000
"It is difficult for me to understand some of the things Gabe does... What a terrible thing it would be for anyone to temper those dreams."
By John Walters, Sports Illustrated
Even his birth was extraordinary. Gabe Jennings was born inside a teacherage–a house connected to a school–in a...
Read More
comments