A Kansas Boy with a Man-Size Task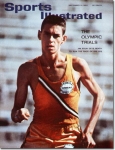 September 14, 1964
This week in Los Angeles, 135 athletes will be competing for 60 positions on the U.S. Olympic track & field team. Some of them—such as Dyrol Burleson, Bob Schul and Henry Carr—have already clinched a spot on the team, provided they are still in good shape, by virtue of their victories in the Olympic Trials in New York last July. Others, like Tom O'Hara, Fred Hansen and Gerry Lindgren, are almost certain of making the team. Then there is a third group, those who may—or may not—be just a step behind the others. One such athlete is 17-year-old Jim Ryun, a 1500 meter runner who until two years ago had never run a race.
By Tom O'Leary, Sports Illustrated
Last June at Compton, Calif. Jim Ryun, a tall, quiet, loose-limbed youngster with a flattop haircut, finished eighth in a Mile race. This apparently unspectacular result nevertheless prompted the winner, Dyrol Burleson, to remark: "There was nothing unusual about my victory. The entire story was back in eighth place. There is simply no way to imagine how good Jim Ryun is or how far he will go after he becomes an adult. What he did was more significant than Roger Bannister's first Mile under 4 minutes."
What Ryun had done was run a Mile in 3:59 only six weeks after his 17th birthday. It was the first time in history that a high school boy had broken 4 minutes. In doing so he achieved one of the two goals that he and his coach at Wichita's East High, Bob Timmons, had set for him earlier in the year. The other was to make the 1964 U.S. Olympic team, running in the 1500 meters (metric Mile). This week young Jim Ryun will get his chance.
It will not be easy. Ryun has never beaten Burleson, nor has he beaten Tom O'Hara or Jim Grelle. However, when he ran the 1500 in the national AAU meet in late June, he finished fourth in 3:39, just a 10th of a second behind Grelle. Ryun has beaten Archie San Romani Jr. and Bob Day, who will also be trying for an Olympic berth, but they have beaten him too. It is obvious then to both Ryun and Coach Timmons that to make the team, Jim must run the finest race of his young life.
Finest does not necessarily mean fastest. Ryun thinks Burleson, with his tremendous finishing speed, quite likely will prefer a slow race ending in an all-or-nothing dash to the tape. O'Hara, Ryun believes, will set a fast pace all the way. That is what Ryun hopes will happen. A fault apparent so far in Ryun's brief career is his inability to recover speed after he tires. In a 100 yard sprint for the finish, he might be left behind, but both he and Timmons figure that in what they call a "quality Mile," one that is fast all the way, Jim should have as much strength left at the end as anyone.
Ryun has been in strict training for his big race since mid-August, when he left home in Wichita and went to Lawrence, Kans., site of the University of Kansas. He has been living there with Timmons and his family—Timmons has been made assistant track coach at Kansas, a move the university hopes will attract Ryun—in a pleasant, relaxed atmosphere. Jim says very little, but in the company of close friends such as the Timmonses he shows a sly, low-key sense of humor. Recently, when asked if he liked the meals Mrs. Timmons was serving, Ryun said: "I have no complaints. The only things I don't like are cucumbers and"—stopping to let the effect mount—"coaches."
Ryun does not limit his terseness to the spoken word. He keeps a diary but in it are found none of the customary references to girls, the Beatles, secret dreams or dashed hopes, no exulting at success. Here is the complete entry for June 27, written after the national AAU meet: "I feel great. I have that funny feeling that I can win. Easy striding until loose. Then a few calisthenics until loose and a few sprints. Mentally I'm ready. I placed fourth in 3:39 flat. I was under old American citizens' record. Easy striding to warm down."
Continue reading at: sportsillustrated.com