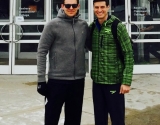 March 09, 2015
No matter what your passion is in life, it is always sweeter when you can share it with the ones you love.
By Matthew Elliott, In the Arena with Matt Elliott
This past weekend I competed in the USA Indoor Track & Field Championships in Boston, MA. I ran my marquee event, the Mile, against...
Read More
comments