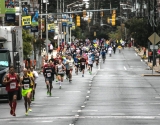 September 23, 2016
Being part of a group is powerful, and for an event like the Main Street Mile, it can spark motivation, sometimes in unexpected ways.
By Nic DeCaire, Newark Post
I've driven down Main Street almost every day for the last 10 years. In that time, I've watched the landscape change along with the...
Read More
comments