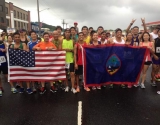 December 13, 2014
"This race represents just a Mile in the shoes of the people who liberated Guam. It's an honor to run this Mile."
By Jackie Small, Pacific Daily News
Impervious to heavy rain showers and gusty winds Wednesday morning, runners competing in the Guam Running Club's 30th Liberation Day Mile...
Read More
comments