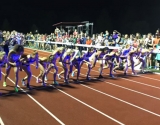 August 03, 2018
Five women and 13 men run sub-4:30 and sub-4 minutes respectively at the fifth edition.
From Sir Walter Miler
RALEIGH, N.C. – For the second year in a row, the Sir Walter Miler Women's race was decided by a sprint down the home stretch. The race started out with Sara Vaughn going to the front...
Read More
comments