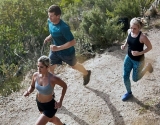 November 15, 2017
"Have fun. Don't worry or think about pace or effort. If you see some flowers, stop to smell them or hug a tree and then continue on your recovery run."
By Duncan Larkin, MotivRunning.com
It may seem counterintuitive that sometimes the best way to properly rest after a tough workout is to...
Read More
comments