Willis sets state Mile record at Michigan Track Classic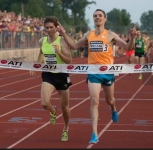 August 11, 2014
"I was exhausted … but I was in the lead in front of my home crowd and I couldn't relinquish it."
By Justin P. Hicks, mlive.com
SALINE, Mich. – Not only was the record for the fastest Mile run in Michigan broken on Sunday, it was topped three times.
Nick Willis led the 13 male racers across the finish line during the 2014 Michigan Track Classic's ATI Running Institute Ron Warhurst Mile at Saline High School. The 2008 Olympic silver medalist and University of Michigan alumnus ran 3 minutes, 53.50 seconds.
"I'm not normally a front-runner but we promised to get after it," Willis said. "It's an honor to have my name down as the fastest person who ever ran on Michigan soil; that's got a cool ring to it."
Willis, 31, was never far behind the front, pulling ahead in the final 800m and barely holding off Garrett Heath as they crossed the finish and collapsed on the track.
"Down the home straight, I had nothing left and I was just trying to reach the finish hoping nobody would pass," Willis said. "I think he got pretty darn close in the end but thankfully I was able to hold him off. I was exhausted … but I was in the lead in front of my home crowd and I couldn't relinquish it."
Heath came in at 3:53.61, followed by Kyle Merber at 3:55.08, all passing the 3:55.78 Michigan state record set by U-M's Kevin Sullivan in 2000.
Continue reading at: www.mlive.com