Why and How to Train for the Mile Now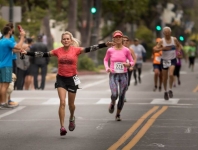 May 21, 2021
"It is really cool to see how fast you can go for a relatively short period of time and participate in such an epic and historical event."
TJ Murphy, PodiumRunner.com
Want to jump-start your fitness, improve your running form, snap out of feeling stale? Start training for the Mile.
Rob Delong was like most kids growing up when it came to running. Every year in gym class, he had to run a Mile.
That was the endurance component of the Presidential Physical Fitness Test, a grade school program developed during the Eisenhower administration to encourage American children to be healthy and active after a study showed their European counterparts were much more fit.
Fast-forward 20 years and, in the midst of getting fit for his first marathon, Delong, a 34-year-old Manhattan currency broker, found himself channeling his younger self.
In his debut marathon, Delong clicked off a steady percussion of 8:50 miles to finish the Chicago Marathon in 3:52:31. Glancing back through Delong's lightning-fast progression into a fit runner, one particular race highlight jumps out: specifically training to run the Fifth Avenue Mile in New York City. Training for and racing in a Mile race, Delong says, clearly helped him hold a faster marathon race pace in Chicago.
This was by design, says his coach, Brian Rosetti, creator of the Run SMART Project, a group of 10 national class runner-coaches, at different locations around the country, who guide runners of all levels through individually designed programs set to the doctrines and principles through author and coaching great, Dr. Jack Daniels.
"I have clients who are training for races from the 5K to the marathon," Rosetti says. "The repetition work that our runners do is at their current Mile race pace, and it serves the purpose of boosting your economy and efficiency, which feeds into the longer stuff."
Rosetti—a former member of the ZAP Fitness Olympic Development program with track PRs of 3:44 in the 1500 meters and 8:08 in the 3000—says that the value of training for the Mile race or low-key time trial is not just a matter of increasing speed and efficiency. He argues that it also helps runners reduce the risk of injury.
"There's a misconception that speed work injures people," Rosetti says. "In fact, proper speed training will teach you how to run with good form and build the strength to hold good form longer." It's in longer, fatigue-inducing runs, he explains, that form breaks down and exposes the body's weaknesses to wear-and-tear.
Stay Smart and Sub-Maximal
The key, Rosetti adds, is to be disciplined in your aerobic training and smart about your speed work. Adding flexibility and agility drills will also help develop speed, but the act of getting faster for a distance runner doesn't come from all-out sprints. Instead, workouts are run at a controlled, sub-maximal pace with small amounts of rest to build speed endurance.
"People get into trouble when they don't understand that what's important is to run the target pace of the rep workouts; not just run them as fast as you can, just because you can," he says.
Continue reading at: podiumrunner.com
BBTM Calendar HERE.