Webb, Flanagan give Portland State coaching staff star power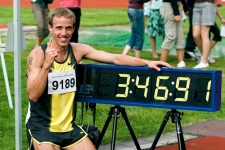 September 22, 2013
"I like being around the positive energy and the enthusiasm of young guys who want to do well and want to get better," said Webb.
By Ken Goe, The Oregonian
It's not clear how good the Portland State cross country teams will be this year, but there isn't a Division I program with more star power on the coaching staff.
U.S. record holders Shalane Flanagan and Alan Webb are volunteer assistants to distance coach Jonathan Marcus this year.
Flanagan has the U.S. women's 10,000 meter record of 30 minutes, 22.22 seconds, which she set while winning the bronze medal in the 2008 Summer Olympics.
Webb has held the U.S. men's record in the Mile of 3:46.91 since 2007. His U.S. high school records in the Mile and 1500 have gone untouched for 12 years.
"It's valuable to have these kind of world class athletes for developing Division I athletes," Marcus said. "The type of work ethic, attitude and passion they bring for the sport is infectious."
It's one thing to have an idol. It's another thing to go on training run with her.
Continue reading at: www.oregonlive.com