Track's Fastest Mullet Is Hair Today, Gone Tomorrow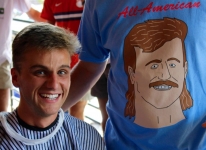 August 12, 2017
Craig Engels' famous hair-and-'stache combo in the running world has been chopped to benefit charity.
By Sarah Lorge Butler, Runner's World
Craig Engels has long turned heads for his fast running—and his flowing locks.
At the 2016 U.S. Olympic Track Trials, he was fourth in the 800 meters and fifth in the 1500 meters, narrowly missing the Olympic team, but his mullet and mustache raised eyebrows.
This spring, at the NCAA Championships in June in Eugene, Oregon, Engels finished third in the 1500 meters. TV cameras caught a glimpse, and his look took the internet by storm.
Now it's gone.
On August 5 in Raleigh, North Carolina, Engels's home state, he sat outside the Tasty Beverage Company and subjected himself to the clippers.
Continue reading at: runnersworld.com