Top fields set for 2022 Sir Walter Miler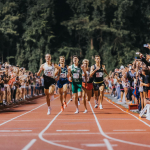 August 03, 2022
Olympians, national champions, past race champion, rising stars vie for $5000 prize purse with time bonus incentives
From Sir Walter Running
RALEIGH, NC - Sir Walter Running has announced the final elite fields for the 2022 Sir Walter Miler. The fields consist of Olympians from four countries, national champions and local standouts.
The 8th "Miler" returns to its standard first Friday night spot on August 5 at the Cardinal Gibbons Track, where the event got its start with the Sandman Mile in 2013.
The 2022 event will again feature Elite Men's & Women's Mile races, as well as two events that show off local runners: the COROS Coaches Clash and the local Run Club 4×400m Relay, presented by North Raleigh Family Eyecare.
The Men's Elite Field is highlighted by 3 Olympians, 5 athletes looking to break 4 minutes for the first time, and new professionals, including 2020 U.S. Olympian Yared Nuguse. While attending Notre Dame, Nuguse set the NCAA Record in the 1500 meters (3:34.68) at NC State's Paul Derr Track at the 2021 ACC Championships.
The Women's Elite Field hosts a trio of former athletes from NC State (Elly Henes, Hannah Steelman, Megan Mansy), a past winner (Charlene Lipsey '18), and Jamaican Olympian Aisha Praught-Leer.
Broadcasting legend Larry Rawson and 2016 Olympian (and the 54th American woman to break 4:30 in the Mile) Colleen Quigley will be in Raleigh to broadcast the event on site, and will attend events surrounding the 2022 Sir Walter Miler.
The Sir Walter Miler is free and open to the public and will be broadcast live on RunnerSpace.com.
Up-to-the-minute Race Day information can be found at SirWalterMiler.com/2022-info and on the Summer of Miles podcast, which is posting daily episodes leading up to the event.
On will be sponsoring an on-field tailgate at Cardinal Gibbons at 7:00pm, with free On swag, games, food and beverages, while they last. There will be food trucks in the parking lot and LMNT will be providing free samples for fans that come early.
The 2022 Sir Walter Miler features $5000 in guaranteed prize money, plus bonus incentives. The Sir Walter Miler has had 57 sub-4 performances on the men's side and 25 sub-4:30 performances on the women's since its inception in 2014. The last time the sub-4 mark was broken in Raleigh before then was 1974. No female had broken 4:30 in North Carolina before 2015.
The 2022 Sir Walter Miler weekend will consist of events from Wednesday through Saturday, starting with a free track meet at St. Augustine's and an Athlete Panel on Wednesday night at Runologie.
Saturday morning is the traditional "Run with the Pros" at Umstead Park. On Saturday night, the Raleigh RunDown Downhill Mile will be held on Centennial Parkway, followed by awards and a post-race party at Trophy Brewing on Maywood.
ELITE WOMEN
• Christina Aragon
• Katie Camarena
• Eleanor Fulton
• Elly Henes – adidas
• Nikki Hiltz – lululemon
• Gabbi Jennings – adidas
• Charlene Lipsey – Tracksmith
• Megan Mansy
• Aisha Praught-Leer – Puma
• Emily Richards – Tracksmith
• Helen Schlachtenhaufen – Nike
• Hannah Steelman – On
• Maddie Strandemo – Oiselle / Little Wing
• Molly Sughroue – Tracksmith
• Laurie Barton (Pacer) – Brooks Beasts
ELITE MEN
• Benjamin Allen – Empire Elite TC
• Amos Bartelsmeyer – Nike Bowerman Elite
• Alec Basten
• Vincent Ciattei – Nike Oregon TC
• Jonathan Davis – Atlanta Track Club Elite
• Jye Edwards – adidas
• Rob Heppenstall
• Rorey Hunter – adidas
• Festus Lagat – Under Armour
• Sean McGorty – Nike Bowerman Elite
• Dan Michalski – Nike
• Yared Nuguse – On Athletics Club
• Sam Prakel – adidas
• Paul Ryan – adidas
• Matt Wisner – New Generation T&F
• Isaiah Harris (Pacer) – Brooks Beasts