TFN Interview: Matthew Centrowitz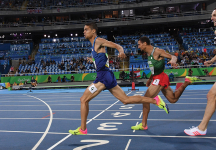 March 11, 2021
"Be ready for a fast race. Be ready for guys to be obviously fast, that can close really well but obviously be strong enough to run a National Record or a season best or PR by the third round."
By Sieg Lindstrom, Track & Field News
While the young collegiate bucks have torn it up indoors this winter, we'd be remiss not to check in with defending Olympic champ Matthew Centrowitz, he of 5 USATF title wins since 2011, the season in which he also claimed the NCAA crown as an Oregon Duck.
Now in his third year of training with Bowerman TC coach Jerry Schumacher, two-time outdoor Worlds medalist Centro's five career World Rankings appearances came in the seasons through 2016 — the year of his thrilling, historic run to gold in the tactical Rio final and World Indoor victory.
Having placed 8th (first American) the last time elite 1500 / Mile men met for a title showdown, at the World Champs of 2019, Centro admits in the chat below to following "up-and-down bumpy roads since 2016" yet assures Mile fans he is all in to "get back to that stage and improve myself" in a milieu where Kenya's 2-time World #1 Timothy Cheruiyot has signaled rivals must be ready for anything — including hell-for-leather pacing from the gun.
"Under-raced" in 2020 per his own assessment (a sadly common plight), Centro got in a 5000 racing lick to finish the pandemic year on an up note with a 13:32.92 win over collegian Cole Hocker at December's "The Track Meet" in Southern California. The run was validation for the still-developing benefits of Schumacher's strength-oriented program, as was the 13:00.39 PR Centro turned out with distance mates shortly before Doha '19.
Centro shared his thoughts on all of this by phone from a Bowerman altitude camp in Flagstaff.
TFN: How are you doing? Hanging in there through this still-weird time?
Centrowitz: Yeah, doing all right. I think this is probably the most confident we've felt in the last year or so that the Olympics will go ahead. So I think having that confidence in knowing that it's going to happen kind of lets us all feel a little bit more confident in our training and reassured that we're training for something, you know — not just kind of going through the motions like last year. But yeah, I think things are going pretty well. I had a pretty good, a pretty solid fall and early winter, probably the best I've had under Jerry Schumacher. So that hopefully bodes really well for the summer.
TFN: You ran a decent 5K at the very end of the year there in December. You had current Oregon Duck Cole Hocker right on your tail but held him off.
Centrowitz: Yeah, I was very happy with that. One, I was happy that Jerry let me race it, but two, our team was just like super, super-fit and ready to go this fall. I don't even think I finished one workout in the fall with the team and I was just kind of under-raced in 2020. So Jerry allowed me to race it and I didn't really know what to expect going into it as I was just kind of gaining fitness with each week and, you know, just kind of using it to kind of get into a race again.
I feel like I kind of lost that feeling of what it feels like to compete with someone down the last straightaway, you know? So I was very happy with it and then obviously months later seeing Cole Hocker ended up running really fast makes me feel a little bit better about my fitness. But personally I was very happy with coming away with — I think it was like the third fastest 5K I've run.
TFN: I get it. Anyone who has ever raced the middle distances or distances at any level understands there is a process to getting race-ready, race-sharp. There's nothing like racing. You said you were kind of getting your butt kicked by your teammates during the fall. Did you have health issues or was it that you came into the fall undertrained?
Centrowitz: I feel like at my age, I'm always gonna have a little something going on just trying to maintain it as best as I can. But yeah, I was going to race a meet on the East Coast, I believe in August, and my hip flexor, something popped up. And then I was kind of forced to take some downtime and that was pretty much the last track race that was on the schedule for the rest of the year.
So I just kinda had a slower buildup than the rest of the team and then they all raced throughout the summer. So I was just kind of behind those guys in terms of sharpness and fitness. And most of the guys are kind of 5K / 10K oriented. We have like maybe two or three Milers. So a lot of the fall workouts that we do are definitely geared towards [true distance runners]. Some of the guys do up to 10-plus miles of work, and as a Miler, that's quite a bit. So for me it was just kind of hanging in there as best I can. I mean, I was probably doing portions of what everyone else was doing.
TFN: Do you feel that by now, after two years working together, you and Jerry have had time to get completely on the same wavelength or are you still learning each other?
Centrowitz: Yeah, I think we're still learning each other. I think with a coach–athlete relationship, you're always constantly learning something new each year with each other — no matter how long or short you've been together. But, yeah, I think Jerry kind of has a much better idea of what I need.
And now, having been part of the group for over a couple of years now, I'm starting to reap some of the benefits of a lot of the strength stuff that I hadn't done in my whole career. Like we do 2 mile repeats on a consistent basis, and I've never seen many Mile repeat workouts in my career, let alone 2M intervals. So that was a huge jump for me. But I think obviously the fast 5K I ran back in 2019 and then also just opening up with a 3:52 Mile that season kind of shows that there's just plenty of ways to kind of get to where you want to get to, through the strength and speed and whatnot.
Continue reading at: trackandfieldnews.com