Stevens seeks first sub-4 minute Mile in Colorado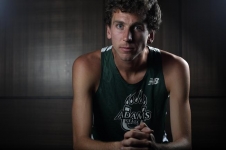 May 22, 2015
"I hear a big push collegiately to run the Mile outdoors. It's always been a fascination since Roger Bannister was the first to do it."
By Daniel Petty, The Denver Post
On a cloudy, breezy day last month, Tabor Stevens and eight other elite runners jogged up to a freshly painted 3-inch white starting line, arcing gradually across the eight-lane track at La Junta High School.
A crowd of students, athletes, parents and track aficionados filled the stands and lined the track — many more than you'd expect for an April track meet on the Eastern Plains. They leaned over the railing in anticipation of this race — an elite Mile organized to help Stevens and Adams State University teammate Matt Daniels run under four minutes, a feat never accomplished on Colorado soil.
"Let's go, boys!" one man yelled from the crowd, quietly awaiting the starter's pistol.
Crack.
Continue reading at: www.denverpost.com