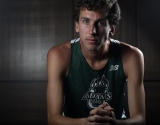 May 22, 2015
"I hear a big push collegiately to run the Mile outdoors. It's always been a fascination since Roger Bannister was the first to do it."
By Daniel Petty, The Denver Post
On a cloudy, breezy day last month, Tabor Stevens and eight other elite runners jogged up to a freshly painted 3-inch white...
Read More
comments