Stellar High School Mile Fields at 107th NYRR Millrose Games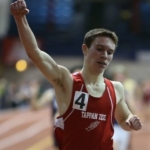 February 06, 2014
New Balance High School Mile includes five boys sub-4:20 and seven girls sub-5 minutes
By NYRR Millrose Games
A number of the best high school athletes in America will take part in the 107th NYRR Millrose Games, set for Saturday, February 15, at The New Balance Track & Field Center at The Armory. Among the most highly anticipated events at the NYRR Millrose Games will be the Boys & Girls New Balance High School Mile.
Leading the Boys New Balance High School Mile is Luke Gavigan (photo above right) a junior at Tappan Zee High School. Gavigan is among five boys entered who have run under 4:20 for the Mile this year, including Mike Brannigan (Northport, NY) and Sean Kelly (Chaminade, NY).
Elk County Catholic (PA) senior Kennedy Weisner timed 4:55.37 to win the NYRR Millrose Games Trials on January 15. She is one of seven girls to have broken five minutes for the Mile in the invitational field. Among those also invited are northeast standouts Bella Burda (Arlington, NY), Laura Leff (West Genesee, NY), Maddy Berkson (Classical, RI) and Foot Locker Cross Country National Champion Tessa Barrett (Abington Heights, PA).
New Balance Boys HS Mile
Luke Gavigan Tappan Zee, NY 4:15.68 Accepted
Mike Brannigan Northport, NY 4:17.04 Accepted
Sean Kelly Chaminade, NY 4:17.65 Accepted
Louis Colson Thomas Edison, VA 4:18.49 Accepted
James Burke Port Jefferson, NY 4:19.28 Accepted
John Flannery Bronxville, NY 4:21.34 Accepted
Steven Booker Bethlehem, NY 4:19.06 Accepted
Tim McGowan Northport, NY 4:18.04 Accepted
Marco Pompilj Collegiate, NY 4:19.50 Invited
Tony Russell West Chester Henderson, PA 4:16.26 Invited
Bill Dolan Clearview Regional, NJ 4:19.96 Invited
Nick Causey Osbourn Park, VA 04:20.7 Accepted
New Balance Girls HS Mile
Kennedy Weisner Elk County Catholic, PA 4:55.37 Accepted
Bella Burda Arlington, NY 4:58.46 Accepted
Laura Leff West Genesee, NY 4:59.22 Accepted
Marissa Sheva Pennridge, PA 4:56.94 Invited
Mady Clahane Cumberland Valley, PA 4:57.62 Invited
Tessa Barrett Abington Heights, PA 4:59.53 Invited
Denise Branch Benjamin Cardozo, NY 5:01.04 Accepted
Caroline Alcorta West Springfield, VA 4:53.77c Invited
Kylene Cochrane West Morris Central, NJ 4:59.21c Invited
Courtney Thompson St. John Vianney, NJ 5:01.41 Invited
Marin Warner Holmdel, NJ 5:01.81 Invited
Paige Duca Sacred Heart, NY 5:03.08 Invited
Visit www.nyrrmillrosegames.org for more information.