State Mile Guide: #8 South Carolina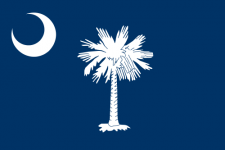 September 12, 2013
Date of Statehood: May 23, 1788
Capital: Columbia
Mottos: Dum spiro spero (While I breathe, I hope) / Animis opibusque parati (Ready in soul and resource)
South Carolina Milers are led by 1992 Olympian, Terrance Herrington, who competed at 1500 meters in Barcelona. Herrington, a Hartsville native and Clemson Tiger alumnus, is #182 on the U.S. sub-4 Mile list. His 3:55.61 in 1991 in France was the second fastest debut Mile by an American.
In 2013 at the Blue Shoes Mile, part of the Furman Invitational, an elite field gathered, breaking the men's and women's Mile records on South Carolina soil. The men's record was broken by Cory Leslie who won in 3:56.18 (since broken by Oliver Hoare in 2020), surpassing U.S. Mile great Alan Webb's 3:57.83 in 2007. In addition, Matthew Elliott finished 4th, clocking 3:58.78, the first sub-4 Mile by a South Carolina native in South Carolina. For the women, Australia's Heidi Gregson won in 4:40.92, breaking Jessica Eldridge's (University of Oklahoma) 4:47.48 indoors at Clemson in 2004.
Petition South Carolina High School League (SCHSL) to Bring Back the Mile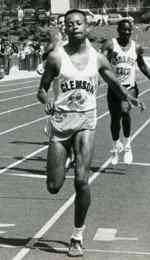 Terrance Herrington, a native of Hartsville, SC and a Clemson Tiger was a 1992 Olympian at 1500m
STATE RECORDS
South Carolina Soil
Male: 3:53.35, Oliver Hoare (AUS), August 29, 2020
Female: 4:40.92, Heidi Gregson (AUS), April 13, 2013
South Carolinian
Male: 3:53.64, Terrance Herrington, 1995
Female: 4:29.88, Grace Barnett, 2021
i = indoors
BOYS:
Mile: 4:14.12, Halston Taylor, 1973
1600m: 4:08.5, Terrance Herrington, Hartsville HS, 1984
GIRLS:
Mile: 4:58.43, Angelina Blackmon, Northwestern HS, 2004
1600m: 4:55.45, Kate Niehaus, Spring Valley HS, 2006
JOIN BBTM
BBTM's state-by-state Mile guide is being produced to share the rich story of each state's history with the Mile, a distance regardless of age, gender or fitness-level, that everyone understands. If you consider yourself a South Carolinian T&F sage and would like to help us fill out our guide, email milemaniac@bringbackthemile.com. We welcome your support and feedback!
REFERENCES