State Mile Guide: #6 Massachusetts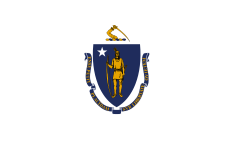 March 29, 2013
Date of Statehood: February 6, 1788
Capital: Boston
Motto: Ense petit placidam sub libertate quietem (By the sword we seek peace, but peace only under liberty)
Home to the Boston Tea Party and Lexington & Concord, Massachusetts has always had proud rebel attitude. In fact, thanks to the vision & wisdom of the Massachusetts Interscholastic Athletic Association and Bob McIntyre, the Bay State has the distinction of being the only state in the Union to have kept the Mile as the official distance at the prep level and at their State meet when tracks went metric circa 1980. Bravo!
At least 12 Massachusites have broken 4 minutes in the Mile led by Johnny Gregorek's stellar 3:49.98 in 2019. Massachusetts was also host to Galen Rupp's 3:50.91 at Boston University in January 2013, a mark that made Rupp, at the time, the second fastest American and fifth fastest in the world all-time indoors. In February 2018 also at BU, Edward Cheserek clocked 3:49.44, a then U.S. All-Comers Indoor Record on March 3, 2019 at BU's lightning fast track, Yomif Kejelcha of Ethiopia smashed legend Hicham El Guerrouj's indoor Mile record, clocking 3:47.01.
Arianna Lambie holds the current Massachusetts High School state Mile record of 4:37.23 that she set at the 2003 MIAA State Meet for The Bromfield School. It is the fastest prep girls Mile in the U.S. run at a high school State meet and was third fastest prep Mile at the time (watch video). BBTM note: Lynn Jennings also attended The Bromfield School where she set many High School records including the national indoor 1500 meter record of 4:18.9 in 1979, but later trained in New Hampshire where her running accolades are often linked.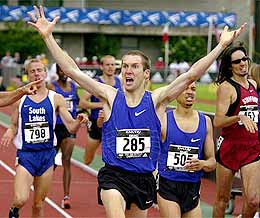 Andy Downin celebrates winning the 2001 USA Outdoor Championships 1500m title.
STATE RECORDS
Massachusetts Soil
Male: 3:47.01i, Yomif Kejelcha (ETH), 2019, World & U.S. All-Comers Indoor Records
Female: 4:23.42i, Heather MacLean (USA / MA), 2023
i = indoors
Massachusite
Male: 3:49.98i, Johnny Gregorek, 2019
Female: 4:23.42i, Heather MacLean, 2023
i = indoors
BOYS:
Mile: 4:01.50, Thomas Ratcliffe, Concord-Carlisle HS, 2016
Mile State Meet: 4:05.14, Victor Gras, Belmont HS, 2004
1600m: not run in Massachusetts
*NOTE: Jonathon Riley (Brookline HS) ran 3:43.18 for 1500m in 1997
GIRLS:
Mile: 4:37.23, Arianna Lambie, Bromfield School, 2003 (at State Meet)
1600m: not run in Massachusetts
JOIN BBTM
BBTM's state-by-state Mile guide is being produced to share the rich story of each state's history with the Mile, a distance regardless of age, gender or fitness-level, that everyone understands. If you consider yourself a Massachusite T&F sage and would like to help us fill out our guide, email milemaniac@bringbackthemile.com. We welcome your support and feedback!
REFERENCES