State Mile Guide: #47 New Mexico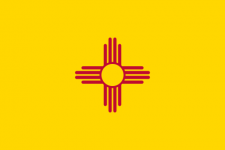 April 28, 2014
Date of Statehood: January 6, 1912
Capital: Santa Fe
Motto: Crescit eundo (It grows as it goes)
New Mexico, land of diverse culture, world class unique cuisine and arresting beauty is also one of the most prolific training environments for runners in the world. The average elevation of the state is well above one Mile and the state's largest city, Albuquerque, sits at 5280 feet or 1609m above sea level and is known as one of the premier running destinations in America. Many greats have trained in the Duke City that is Albuquerque: from marathon legends Paula Radcliffe and Lornah Kiplagat to U.S. Mile studs Alan Webb and Michael Stember. 2102 Olympic and 2013 world champion Mo Farah and his Oregon Project teammate Galen Rupp have recently made New Mexico their altitude base for the past few years. And two of the greatest Milers of all-time, Noureddine Morceli and the King of the Mile himself, Hicham El Guerrouj, made Albuquerque their training grounds at one point in their storied careers.
Don't mistake the high volume of out-of-staters and foreign greats for making up the accomplished distance runners in the state. New Mexico itself, being one of the least densely populated states in the nation has had its share of extraordinary distance runners, far too many to name, as well as five sub-4 minute Milers to-date.
Leading the list with the all-time quickest four lapper is Chuck Aragon with a 3:51.62 at the Oslo Dream Mile in 1984. Aragon was a standout in high school as well as in college at Notre Dame. Other greats such as 1968 Olympic bronze medalist steeplechaser, George Young, who chased the late Steve Prefontaine in 1972, was New Mexico's first sub-4 minute Miler and the oldest athlete at the time to break the 4 minute Mile with his 3:59.6, also in 1972 at age 34. The other three top Milers were Adam State alums, the late Dan Maas who won several 1500m / Mile titles while at Adams State and still holds the 1500m school record, 3:39.64, to this day. Ryan McNiff also dipped under the magic mark in February 2013 for the first time. One of the biggest names to break the 4 minute Mile was World 800m Indoor champion, David Krummenacker, who blasted a 3:54.23 in 1998 and also had a 3:31.91 1500m PR from 2002.
In 1979, Wilson Waigwa of Kenya recorded the first sub-4 minute Mile in the state (and also the first sub-4 indoors at altitude), clocking 3:59.4 in Albuquerque.
The second, third and fourth sub-4 minute Miles on New Mexico soil were led by Will Leer at the 2013 USA Indoor Championships in Albuquerque. Leer's 3:58.79 was the fastest Mile at altitude indoors.
On January 27, 2018, Edward Cheserek of Kenya blasted a 3:54.73 indoors in Albuquerque, the fastest indoor altitude Mile and #2 all-time, and at the 2015 USA Indoor Championships in Albuquerque, Shannon Rowbury clocked the fastest women's indoor altitude Mile, 4:34.40.
Petition New Mexico Activities Association (NMACT) to Bring Back the Mile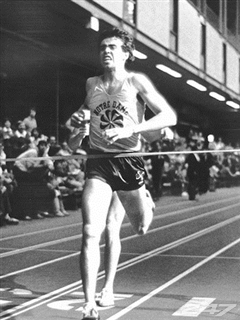 Chuck Aragon was a NM State Mile champion and was also the first athlete at Notre Dame to break 4 minutes.
STATE RECORDS
New Mexico Soil
Male: Edward Cheserek (KEN), 3:54.73i, 2018
Female: Shannon Rowbury (OR), 4:34.40i, 2015
i = indoors
New Mexican
Male: Chuck Aragon, 3:51.62, 1984
Female: Need - email us
BOYS:
Mile: Ric Rojas, 4:12.6, Los Alamos High School, 1970
1600m: Matt Twiest, 4:11.20, Albuquerque Academy, 1996*
GIRLS:
Mile: Regan Ward, 4:54.01, Ruidoso High School, 2013
1600m: Amy Swier, 4:51.68, Aztec High School, 1997*
*= NM State Records are only eligible at the State Championship Meet which is run in Albuquerque each May. Others have run faster at other venues, e.g. Shadrack Kiptoo ran a 4:02.65 in 2004 against Galen Rupp in Oregon.
JOIN BBTM
BBTM's state-by-state Mile guide is being produced to share the rich story of each state's history with the Mile, a distance regardless of age, gender or fitness-level, that everyone understands. If you consider yourself a New Mexican T&F sage and would like to help us fill out our guide, email milemaniac@bringbackthemile.com. We welcome your support and feedback!
REFERENCES