Some Hot Times in a Hothouse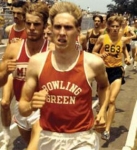 June 18, 1973
Dave Wottle defends Mile title, sets NCAA Meet record of 3:57.1 and leads 7 others under 4 minutes in Baton Rouge
By Ron Reid, Sports Illustrated
As track meets go the 52nd NCAA Championships at Baton Rouge last week was certain to generate a bunch of new records. Not so much for athletic excellence, you understand, but in such categories as soggy T shirts, fevered brows and a dire shortage of Ultra Ban 5000. But for Dave Wottle (above right) the defending champion in the Mile, and UCLA, the defending champion in everything, it was strictly a case of no sweat.
Wottle, the Olympic 800 meter gold medalist from Bowling Green, left Bernie Moore Stadium Saturday afternoon with a win and a personal record in the Mile. UCLA also ran well but mostly jumped to a third straight team title with 56 points as USC, which was considered to have a chance of dethroning the Bruins, wilted in the heat and wound up with nine points, its fewest ever.
Oregon, another contender, finished second with 31 points as Steve Prefontaine became the first to win an NCAA track event four years in succession. Pre took the three-mile by 50 yards in 13:05.3, the best time in the world this year. Following his victory lap he toned down his earlier criticism of LSU as the meet site (SI, May 28) by praising the crowd, facilities, organization, scenery—everything but the 90F temperature and 93% humidity. As indeed he should have. Climate notwithstanding, it may have been the best NCAA meet ever.
Even before the first trial heat on Thursday night, a few hours after a driving rainstorm had sent nearly all of Baton Rouge in search of an ark and two of every species, the Mile field loomed as the classiest of the meet. Eight competitors had broken four minutes and five had faster times than Wottle's seasonal low of 3:58.6. The best of the bunch was Michigan State's Ken Popejoy, a bright, delightfully enthusiastic 120-pound whippet who on May 5 had run 3:57 to begin a string of four straight sub-4 races on successive weekends. The other contenders did in fact come in pairs. North Carolina entered Reggie McAfee (3:57.8), the first black native American to crack the coveted 4 minute mark, and Tony Waldrop (3:58.4), a half-miler who had run the longer distance just four times in his life. From the West Coast, by way of Ethiopia and Norway respectively, came Oregon State's Hailu Ebba and Oregon's Knut Kvalheim, each with a 3:57.9 best achieved when Ebba nipped Kvalheim in the Pacific Eight Conference meet.
Neither Popejoy's string of fine races, however, nor his victory over Wottle in the Vons Classic in L.A. on May 27 changed his opinion of who was the favorite. Wottle was the man, and as for tactics, the best way to beat him and his devastating kick was by staying ahead, preferably on a fast early pace. Most of the runners were hoping for that kind of pace. The trouble was no one seemed particularly interested in setting it.
Continue reading at: http://sportsillustrated.com