Sioux City's Shelby Houlihan 'bummed' over Olympics postponement, but says it's the right call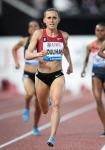 March 29, 2020
"I am grateful there is that opportunity even though it's delayed a little bit... As long as I stay healthy, not push too hard, there's no reason I can't be even better. It's another year to train if I look at it optimistically."
By Justin Rust, Sioux City Journal
For about the past four years, Shelby Houlihan has been working to improve on her 11th place finish in the 5000 meter run in her first Olympic appearance at the 2016 Games in Rio de Janeiro.
Over that time, Houlihan, an East High School graduate, has been consistently improving. In 2018, she set the American record in the 5000 with a time of 14:34.45, cutting 26 seconds off her personal best and 34 seconds from her time at the Rio Olympics.
She also set the national record in the 1500m last October, clocking 3:54.99, good for fourth at the 2019 World Championships in Doha. Houlihan went on to win the 3000m and 1500m titles at the USATF Indoor National Championships this February, giving her 13 U.S. titles overall.
Houlihan felt like she was in top form as the U.S. Olympic Trials in June approached.
But she has to put her Olympic dreams on hold for a year. On Tuesday, the International Olympic Committee postponed the 2020 Tokyo Summer Olympics to 2021 because of the coronavirus pandemic.
"I am a little bummed. I came into this year really hungry to do well at the Olympics and I gained some pretty good fitness over the last few months and I was looking to keep it rolling," Houlihan said in a phone interview. "Now I will take a step back and still train like normal. The thing about our group, we attack every year the same way, whether it's an Olympic year, a World Championship year, an open year. We treat it like any other year."
Continue reading at: siouxcityjournal.com