Should Michigan 'Bring Back the Mile' to high school track competition?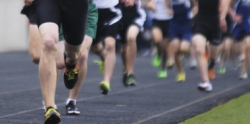 March 05, 2012
"Even though it is not my primary distance, it is still a goal of mine to break 4 minutes." - Dathan Ritzenhein
By Cory Olsen, Grand Rapids Press
If it were up to Ryan Lamppa, everyone would be able to run a mile. Well, not just a mile, The Mile.
Since the early 1980s when metric took over track & field, the Mile was out, the 1600m was in. Lamppa believes high school athletes have been shorted in their quest to make history: break the 4-minute Mile.
"There's something about the Mile," Lamppa said. "I've had a real passion for it. It's a very American distance."
Lamppa talks about growing up and starting to run as a youth, reading "The Jim Ryun Story," and becoming inspired by the first high school boy to break the 4-minute Mile mark. That inspiration still lives in Lamppa, you can hear it in his voice when he talks about the distance. It's very much who he is.
Continue reading at: www.mlive.com