Shelby Houlihan ready to chase Olympic gold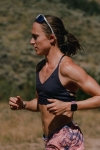 December 05, 2019
"Right now, the plan would be to double her in the 1500 and 5000 meters at the Olympic Trials."
By Kerry Eggers, Portand Tribune
When effort intersects with talent, the results can be spectacular.
Enter the world of Shelby Houlihan, who at age 26 is on the precipice of unprecedented success among female distance runners in the United States.
Mary Decker Slaney, Joan Benoit Samuelson and Shalane Flanagan are probably the biggest names in women's distance running history in this country. The next great star could be Houlihan, the American record-holder at 1500 and 5000 meters and the brightest light in a cavalcade of them with Nike's Bowerman Track Club. She is the two-time defending national champion at 1500 and three-time defending champ at ,000.
"Shelby is fantastic," said Jerry Schumacher, Houlihan's coach and the founder of the BTC in 2008. "She is extremely motivated and driven. She is a great competitor. You're going to get the best she's got on any given day. The job for us as coaches is to make sure she is prepared and ready; she'll do the rest."
Houlihan hasn't yet made a major impact on the international racing scene, but she's getting there. The 5-3, 115-pound Sioux City, Iowa, native set an American record of 3 minutes, 54.99 seconds in placing fourth in the 1500 at the World Championships in Qatar last October. That result left her prideful for the record but disappointed that she came so close to a medal.
"Bittersweet," Houlihan said last week during an interview after a training session at the track at Nike World Headquarters. "I'm glad I was able to get the American record. That was one of my goals this year. But to walk away without a medal, after convincing myself the previous two months that I could do it — it was definitely hard."
That may be coming. Americans have not had much success breaking African domination in the track distance races at the Olympic Games over the last half-century. The only U.S. distance runners to earn medals on the track since 1968 have been Kim Gallagher (silver in the 800 in 1984, bronze in '88), Jenny Simpson (bronze in the 1500 in 2016) and Flanagan (bronze in the 10,000 in 2008). Houlihan hopes she'll be the first one to break through to stand highest on the medal stand since Madeline Manning won gold at Mexico City.
"I'm very hungry for a medal," Houlihan said. "I want an Olympic gold medal so bad. I'm going to do everything I can, and work as hard as I can, to get to that point."
Continue reading at: pamplinmedia.com