Sara Hall Claims Second Consecutive Grand Blue Mile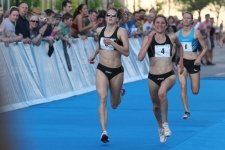 April 24, 2012
Peter van der Westhuizen takes first GBM crown
Courtesy: Drake Athletics
DES MOINES, Iowa - 2011 Pan Am Games gold medalist Sara Hall (far right) became the first two-time winner in the three-year history of the Grand Blue Mile on Tuesday evening, outkicking Heather Kampf to repeat as champion in 4:45.66. In the men's elite division, Peter van der Westhuizen won his first GBM title in 4:02.99 after finishing third in the 2010 inaugural event and second last year in the downtown road Mile presented by Wellmark and The Drake Relays.
AJ Acosta finished second in 4:03.16, while 2010 winner Boaz Lalang was third in 4:03.36. In the women's elite race, Kampf's runner-up time was 4:45.92, while 2010 race winner Amy Mortimer was third in 4:47.56.
Continue reading with more photos at: www.godrakebulldogs.com
Complete event results can be found here.