Saïd Aouita: The Greatest of All Time?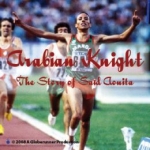 February 17, 2017
Aouita was not simply a consummate competitor, who won a hard-to-believe 115 out of 119 races in close to a decade... but he was a peerless entertainer. The Olympic champion could talk a race as well as he could run one.
By Pat Butcher, Globerunner
When the Ancient Greeks, who invented the Olympic Games as an afterthought to laying the ground rules of Drama, Philosophy, Ethics, Medicine, Astronomy, et al, wanted to venture a bit of soothsaying as well, they would despatch a slave to Delphi to consult the Oracle. We slaves to track and field athletics have a much simpler task nowadays; we just log on to the internet and consult the likes of trackandfieldnews or letsrun. We can get results, reports, stats, and opinions on the state of the sport from across the world. The latter site has its drawbacks, mostly connected with its forum and message boards, where there are a few, sorry, a lot too many trolls, attention-seekers, and people who just can't spell.
However, this piece is for the dudes who have been having a lively discussion recently on the merits and demerits of a character who was lighting up the track when I was in the prime of my daily newspaper athletics writing career three decades ago. Excuse the delay of a week or three in joining in, but I was too busy writing about another all-time great, Kenenisa Bekele, as I had similarly done with his illustrious predecessor, Haile Gebrselassie on previous occasions. My daily scribbling stint having also encompassed the careers of Sebastian Coe, Steve Ovett, Steve Cram, Sergei Bubka, Daley Thompson, Carl Lewis, Michael Johnson, Flo-Jo, JJK….. I could have meant any of them, and indeed, I could go on and name many more…. but most of you will have already guessed from the adjacent photo, the athlete I most enjoyed writing about, and watching in action was Saïd Aouita; which is why I eventually made a television documentary with him.
Continue reading at: www.globerunner.org