Running this Mile wasn't seven minutes in heaven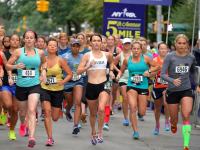 August 28, 2015
"The Mile is unique because it requires both endurance and speed training to hold race pace - and also later in the final stretch to kick hard when you are hurting."
By Jen A. Miller, The Philadelphia Inquirer
This summer, I ditched my usual fall marathon training and decided to focus on shorter races, sprinkling my calendar with 5ks and 10ks and leaving open the possibility of doing a late fall half marathon.
My main race, though, is the Fifth Avenue Mile, which is in New York City on Sept. 13. It's just one Mile. How much could it hurt? And how hard could training be?
Answers: A lot. And hard.
"As distance runners, we have gotten accustomed to the strategy of the longer races. We like warming up and settling in to a pace," said Gerard Pescatore, a Road Runners Club of America certified coach - and my coach. "We tend to make adjustments along the way as necessary. The longer races are comfortably uncomfortable. There is time to adjust and time to zone out."
Continue reading at: www.philly.com